When we think about the rain as Indigenous people, we often think of renewal. A washing away of the old and an invitation to the new. A nourishment of what lies beneath the surface. As hundreds of Indigenous Peoples and allies converged upon the Steamboat Park Amphitheater in Pierre, South Dakota on a rainy day earlier this week for the Oceti Sakowin March for Our Children, the energy of youth, renewal and community were palpable.
Organized by NDN Collective's Education Equity team in partnership with the South Dakota Education Equity Coalition, the march to the state capitol building from Steamboat Park and subsequent rally, aimed to bring community together to collectively take a stand against newly proposed updates to South Dakota's social studies standards, which erase several mentions of the Oceti Sakowin– the related bands of Lakota, Dakota, and Nakota people Indigenous to South Dakota– from state social studies standards.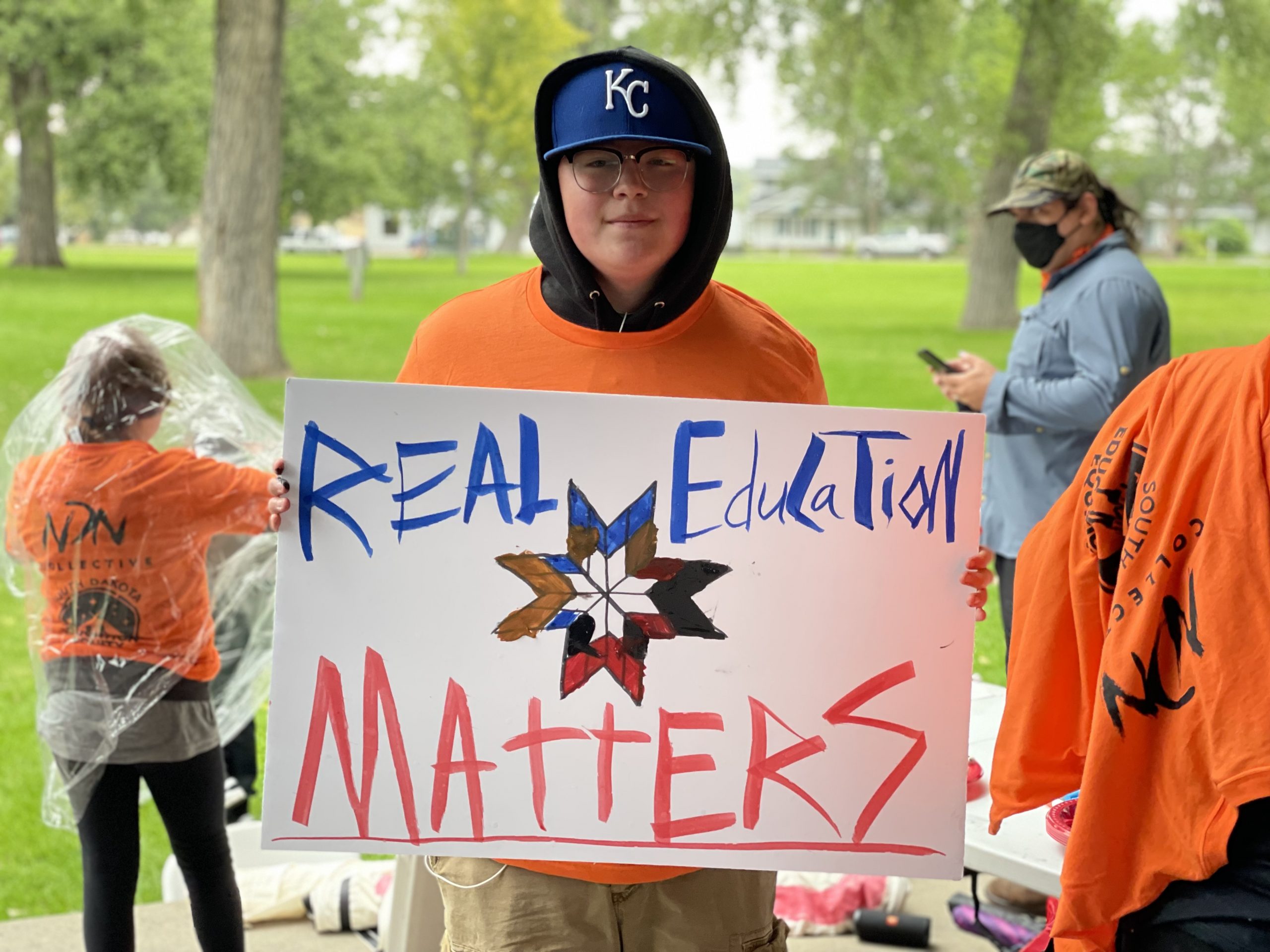 "The strength and courage that were displayed by youth at the march, as well as those who organized in solidarity, was awe-inspiring," said Sarah White, NDN Collective Director of Education Equity. "Everything about the day was a beautiful testament to youth leadership and the power and sacredness that their being exudes."
The event was also an opportunity to present five demands in response to the blatant erasure of the Oceti Sakowin in the proposed social studies standards. Four demands were laid out before the event in a statement before the rally, and a final and fifth demand was shared at the rally, calling for the resignation of four state officials complicit in the Indigenous erasure in the newly proposed standards.
White read all of the demands at the rally, including the final demand calling for the resignation of Gov. Kristi Noem; Tiffany Sanderson, South Dakota's Department of Education; Secretary David Flute, Secretary of Tribal Relations; and Fred Osborn, Director of Indian Education.
The Earlier 4 Demands Include:
Make Oceti Sakowin Essential Understandings & Standards explicitly inclusive within state standards
Move the Office of Indian Education back under the Department of Education
Honor South Dakota law and the Every Student Succeeds Act (ESSA), with regard to tribal consultation for the full inclusion of Tribal Chairmen & Tribal Education Departments in state decision-making impacting education
Hold study session to enable opportunities for school choice specific to Indigenous education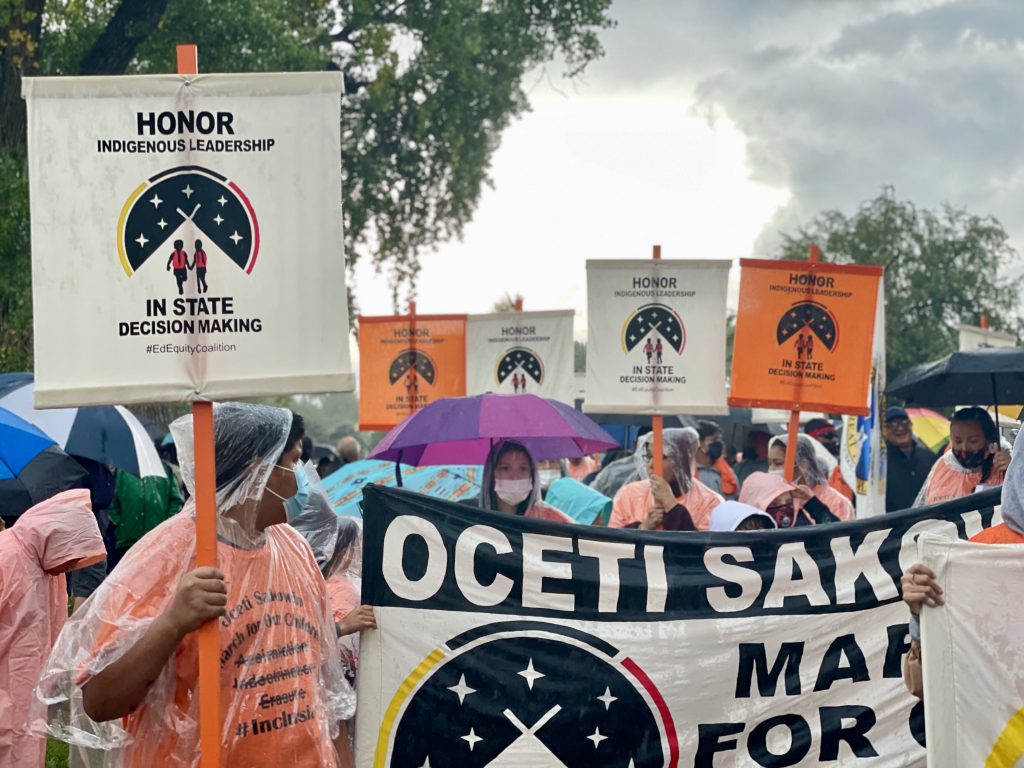 Marching from Steamboat Park to Hilgers Gulch where the march concluded, participants of all ages, including Native students and educators from schools across the state, made their way through the rain, many with umbrellas in hand, clad in rain ponchos and holding signs and banners with messages in bold lettering, asserting on their own ancestral lands, "You can't erase us."
Once arriving at Hilgers Gulch situated in front of the Department of Education's building, a group of youth opened the space by singing Lakota prayer songs. One by one, youth speakers shared their own personal testimonies about how the proposed social studies standards would impact them, and how Indigenous erasure has affected them thus far in their lives.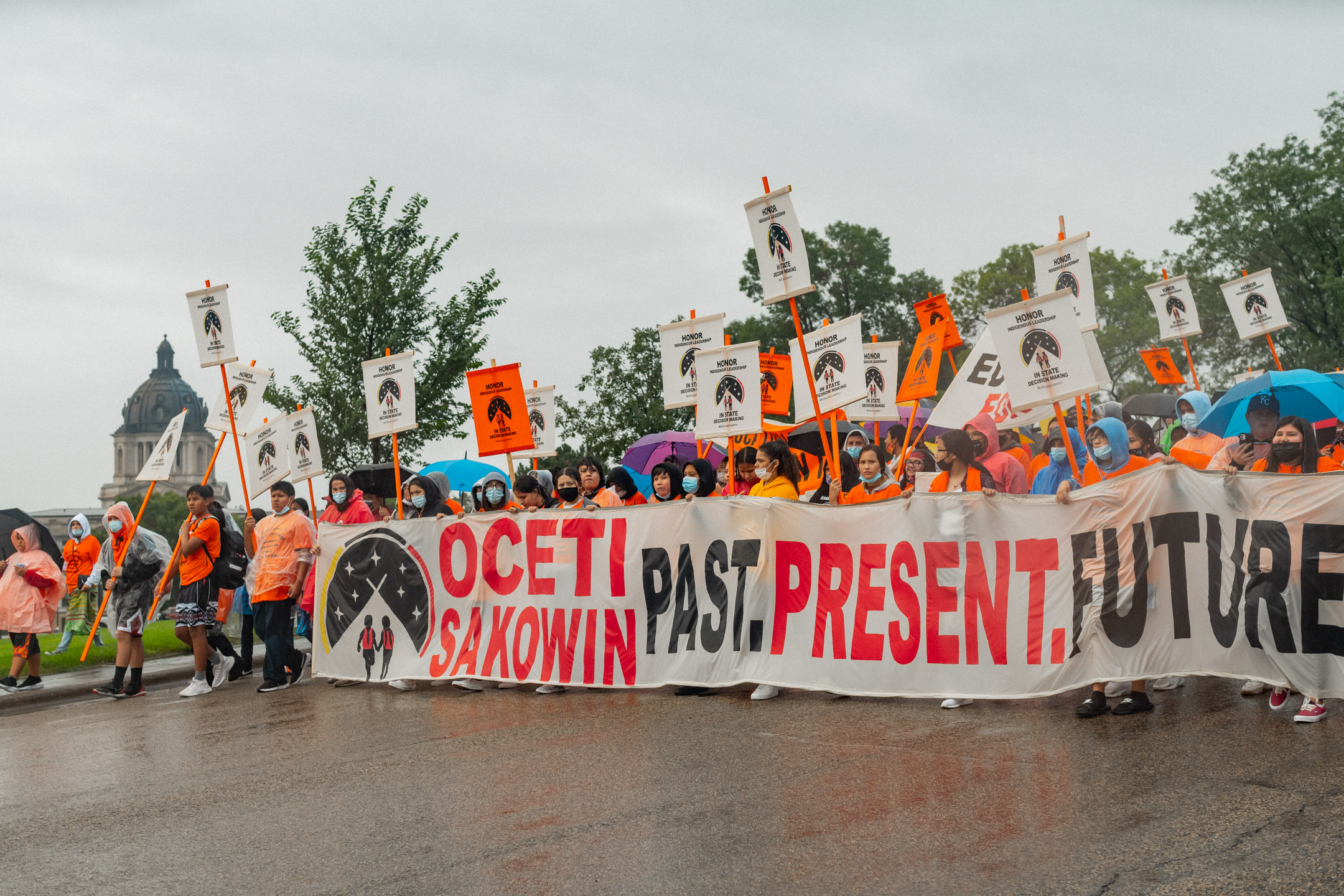 One of the youth present at the rally, and also a featured speaker, was Kansas Clifford from Little Wound High School located on the Pine Ridge reservation. "Our state has many lessons to learn from past events and those realities are harsh," she said. "We chance continued cycles of racial tension, cultural misunderstandings and erasure of history if we dismiss such critical information."
"I want to learn my entire state history," Clifford continued. "I want to be a part of the future state community who learns from the past and redefines and improves our state for generations to come. As students of this state, we deserve the truth."
Photos by Sunny Red Bear for NDN Collective.
While the rally progressed in the state capitol of Pierre in the center of the state, several youth-driven events were occurring simultaneously across the state. In the eastern region of the state, Native students from Rapid City Central High School's Lakota Empowerment Club planned and led a school-wide walk out in solidarity with the Oceti Sakowin March for Our Children. A day prior, club members gathered at NDN Collective headquarters in Rapid City in preparation for Monday's walk-out, sharing their reasons for taking part in the event.
"I think it's really important for the children and generations to come to show that we stand with them and to not let them be erased, and so they know where they come from," said Adriana, a Junior at Rapid City Central High School, assisting with preparations for the event.
Hear from rapid City Central High school Students on the day before their planned walk-out:
In another show of solidarity on the western side of the state, students at Flandreau High School also led a walkout, emphasizing the harm and erasure that the proposed SD social studies standards present. "If they don't teach our history in school, then how are they supposed to know exactly who we are, what we stand for and where we came from," said Arianna Weston, student at Flandreau High School and present at the walkout.
As Monday's Oceti Sakowin March and rally came to a close, the rain continued to fall, and the grounds, where so many had stood in solidarity and in power with each other, held the footprints of a peoples inextricably tied to these lands.
"My grandson Kingston made a sign today that said 'we matter'," said Mary Bowman, NDN Collective NISN Fellow. "Today we showed the wakanyeja— our word for children, which means sacred beings– that they matter. Wopila (thank you) for all that marched and those that showed support! We will keep fighting for inclusive education for our wakanyeja, because our kids matter, and they deserve it."
Bowman is leading in the development of the Oceti Sakowin Community Academy — the Indigenous-led school being opened by NDN Collective in partnership with the NACA Inspired Schools Network (NISN). The school will open for kindergarten students in the fall of 2022.
"While [the day] was clearly about addressing racist policy making at the state level it was also about visibility," said Amy Sazue, NDN Collective Education Equity Organizer. "We publicly announced opposition to the proposed social studies standards and the Governor, Department Of Education, and the office of Indian Education are officially on notice."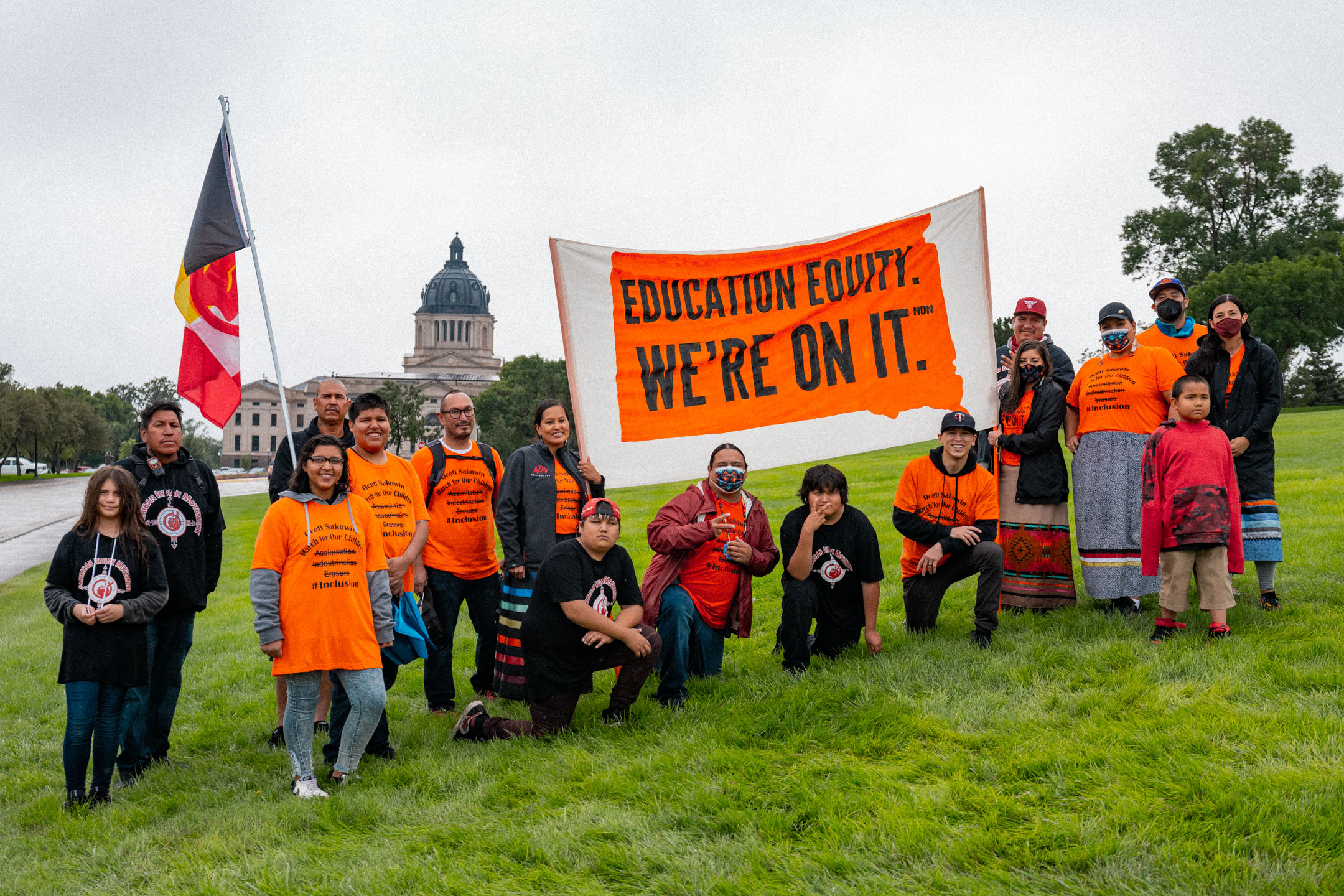 "Most importantly, we sent the message to our Indigenous youth across the state that we see them, their identity is important and valuable, and we are in this fight for education equity with them," Sazue continued.
After the event, White summed up the fight poignantly: "Youth should not have to settle for scraps of equity when we have an opportunity for our education standards to honor and value all South Dakotans inclusively."
The NDN Collective will continue to support education equity for Native youth in the state and across Turtle Island. Meantime, the proposed South Dakota social social studies continue to be vehemently opposed by Indigenous people across the state. The proposed standards will go to four public hearings which will be held throughout the state between now and 2022 until the Board of Education Standards (BOES) considers them for approval in the spring of 2022.
---
Take Action
Submit a public comment against South Dakotas proposed social studies standards here.
Stand in Solidarity
If you are a South Dakota educator or organization that would like to make your own banners or signs in solidarity with this action, click here.
watch the Full Livestream of the march and Rally: