For Immediate Release:
November 11, 2021
Glasgow, Scotland — Today, the International Indigenous Peoples Forum on Climate Change (IIPFCC) reaffirmed its position regarding the negotiations of Article 6 of the Paris Agreement. This position includes safeguards for human rights and the rights of Indigenous Peoples, and proposes language changes to 6.4 and 6.8 that includes Free, Prior and Informed Consent and direct inclusion of Indigenous Peoples. IIPFCC maintains that without rights safeguards, Article 6 risks putting Indigenous lands and territories at increased risk under a global carbon market and carbon accounting mechanism.
Article 6 remains the last article of the Paris Agreement to be agreed upon, due to the complex goals of the article that include the creation of a global carbon market and carbon accounting mechanism that many fear would do little to reduce emissions while simultaneously incentivizing continued fossil fuel extraction.
The IIPFCC believes that even with strong rights language, Article 6 could impede global commitments made by the Parties to drastically reduce greenhouse gas emissions in order to remain under 1.5 degrees Celsius increase of temperature from pre-industrial levels.
Other constituencies like YOUNGO and Women and Gender alongside the Human Rights and Climate Change Working Group are also deeply concerned about the current state of discussions on Article 6.
"Throughout COP26, so-called global leaders have been negotiating the future of our children and planet. It's become clear that peppering human rights and rights of Indigenous Peoples language throughout articles and negotiations means nothing if they are also giving dirty corporations and high polluting nations ways to "offset" their emissions by buying and trading the air and our lands and territories. It's simply just lip service in the name of business as usual if our people are not given the power to make decisions for ourselves. Governments must take the appropriate steps to correct course and adequately address this crisis by upholding our rights so that we can do what we have always done – protect the land for our children and for all life on this planet." – Eriel Deranger, Executive Director of Indigenous Climate Action
​​"The International Indigenous Peoples Forum on Climate Change has made it clear through our remarks in today's plenary that we cannot and will not agree to Article 6 unless it includes specific language respecting Indigenous knowledge, proper consultation with Indigenous Peoples throughout the entirety of any decision making processes, and an independent grievance mechanism that holds bad actors accountable. We're not here to rush through a process – tomorrow's end time means nothing to us if false solutions around carbon markets and safeguards from the fossil fuel industry are still on the negotiating table." – Lycia Maddocks, NDN Collective Political Director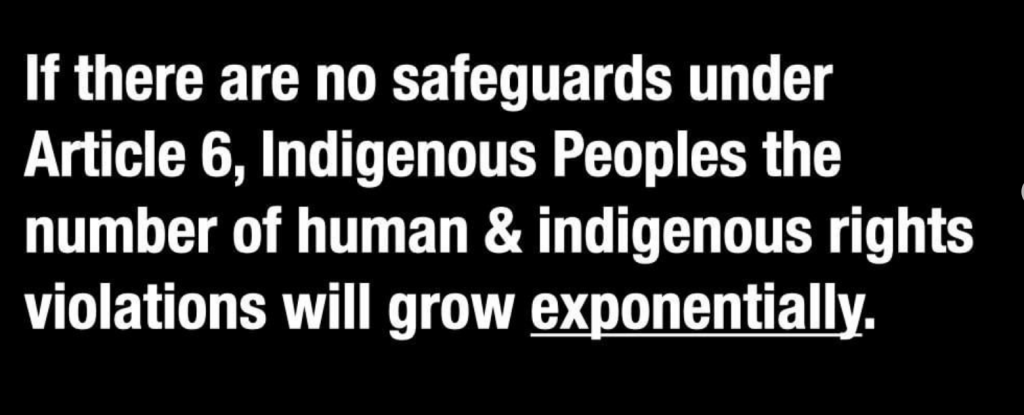 ###
NDN Collective is an Indigenous-led organization dedicated to building Indigenous power. Through organizing, activism, philanthropy, grantmaking, capacity-building, and narrative change, we are creating sustainable solutions on Indigenous terms.
---
For Interviews or to Connect on the Ground Contact:
Cabot Petoia,
Clpetoia@gmail.com
Diane Connors,
dianne@indigenousclimateaction.com