for immediate release:
June 25, 2021
Rapid City, SD — In response to U.S. Interior Secretary Deb Haaland's recent announcement that the United States will investigate past federal policies that tore hundreds of thousands of Indigenous children from their families and forced them into boarding schools — including identifying past boarding schools, locating possible burial sites, and compiling a list of past students' names and tribal affiliations — as well as news of a growing number of additional unmarked graves discovered recently at the site of another former residential school, NDN Collective released the following statements:
"We applaud Sec. Haaland's leadership in creating a concentrated effort to continue uncovering the dark history of Native boarding schools in this country. Secretary Haaland knows that the United States government cannot treat these horrifying discoveries as a Canadian problem, when the same practices took place here for decades. We as Indigenous people know this history well; it affects our everyday lives, and has for generations. The reality is these schools were created to colonize our people and our lands.
"If we truly want to foster healing, then we also need to focus on creating new decolonial approaches for educating Indigenous students which should include revitalizing our languages, cultures, and ways of knowing. Indigenous children deserve an education that respects and celebrates their identities and cultures, and we will fight to make that a reality by building schools from the ground up. We must build a future that Native youth can see themselves in. That future starts with a real reckoning of the past, and with Haaland's leadership, we're seeing that solution come to fruition in a significant way." – Nick Tilsen, NDN Collective President and CEO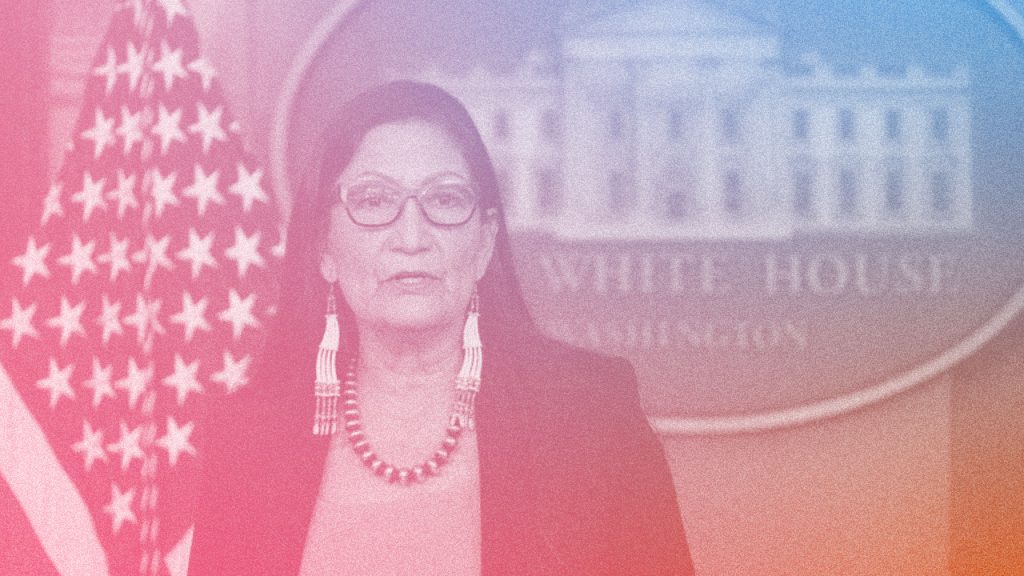 "You see our unhoused relatives out there? You see the backpacks they carry filled with trauma? Do you see the broken and shattered families? These are direct results of the boarding schools all across Turtle Island. In these dark times where deep, genocidal wounds are reopened, we acknowledge and applaud the brave leadership of Secretary Haaland as she demands we tell the truth about what was done to our people.
Our government has continually tried to piece together our broken systems, services, and policies like a broken mirror. If they would truly look at themselves and see the history of this stolen land, they would understand it cannot be fixed with the same colonial approaches. Our families deserve justice. This federal investigation, and repairs for the violence committed against our ancestors, are needed in order for us to truly heal." – Sunny Red Bear, NDN Collective Racial Equity Campaign Director
"As the numbers of mass and unmarked graves at Indian residential schools in so-called Canada continue to rise, our communities continue to grieve deeply and hold each other close. The trauma is very real at this moment, and yet we brace ourselves and still demand the investigations into these hidden stories. Indigenous people in the U.S. demand the same justice for our relatives whose stories and bodies also remain buried by colonial institutions who wanted nothing more but for us and our ancestors to disappear.
"Our communities today suffer invariably from the ongoing impacts of brutal and oppressive Indian boarding schools that were sanctioned by the U.S. government. That devastation caused cannot be understated, and we are more than ready for that dark history to be uncovered. This will be hard for the United States as a whole to reckon with, and we already know this as Indigenous people; That history has been buried this long for a reason. So I applaud Secretary Haaland for committing to a national investigation, for seeking justice for our ancestors and our communities and within a government institution once committed to our erasure and genocide. We have been waiting for this." – Sarah Sunshine Manning, NDN Collective Director of Communications.
Earlier this month, NDN Collective called for continued searches for mass and unmarked graves on all properties of former Indian residential schools across Canada and the United States.
###
NDN Collective is an Indigenous-led organization dedicated to building Indigenous power. Through organizing, activism, philanthropy, grantmaking, capacity-building, and narrative change, we are creating sustainable solutions on Indigenous terms.