For Immediate Release:
July 2, 2021
Rapid City, SD — On Friday, July 2, Nick Tilsen, president and CEO of NDN Collective, filed a motion to dismiss charges filed against him by the Pennington County Attorney's Office (PCAO). This motion comes in response to PCAO's recent statement that it intends to prosecute Tilsen again, after initially saying it would dismiss the charges against Tilsen in exchange for his participation in a pre-trial diversion program, retreating from this initial offer in a retaliatory response to Tilsen exercising his right to free speech, and then delaying any further response for three months.
"This entire prosecution has been motivated to limit my First Amendment rights, to limit First Amendment Rights of Native people in this community when we speak out," said Nick Tilsen, president and CEO of NDN Collective at a press conference on Friday. "It was immediately following the diversion meeting that I expressed my feelings to the media about this prosecution. The State Prosecutor didn't like what I said to the media. He did not like the tone I used in the media and he didn't like the way I communicated my message to the media."
The motion filed by Tilsen states that the PCAO's actions to punish Tilsen for his constitutionally-protected free speech violated his rights to due process and equal protection, chilled his First Amendment rights, and violated his Sixth Amendment right to a speedy trial. The motion argues for dismissal of all charges against Tilsen on the basis of the PCAO violating Tilsen's constitutional rights throughout the negotiation process.
"It has been a year since I was incarcerated and I have not seen a day in Court," said Tilsen. "I have not actually went to trial here in this community."
The original charges against Tilsen were filed last summer, when 21 Indigenous people and allies — including Tilsen — were met with force by the state police and arrested for protesting Trump's rally at Mt. Rushmore. Though Trump and his group were violating multiple treaties with their presence, including one through the U.N. Declaration on the Rights of Indigenous Peoples, the land defenders faced multiple charges. Tilsen himself was facing the harshest charges, including a felony and up to 17 years in prison.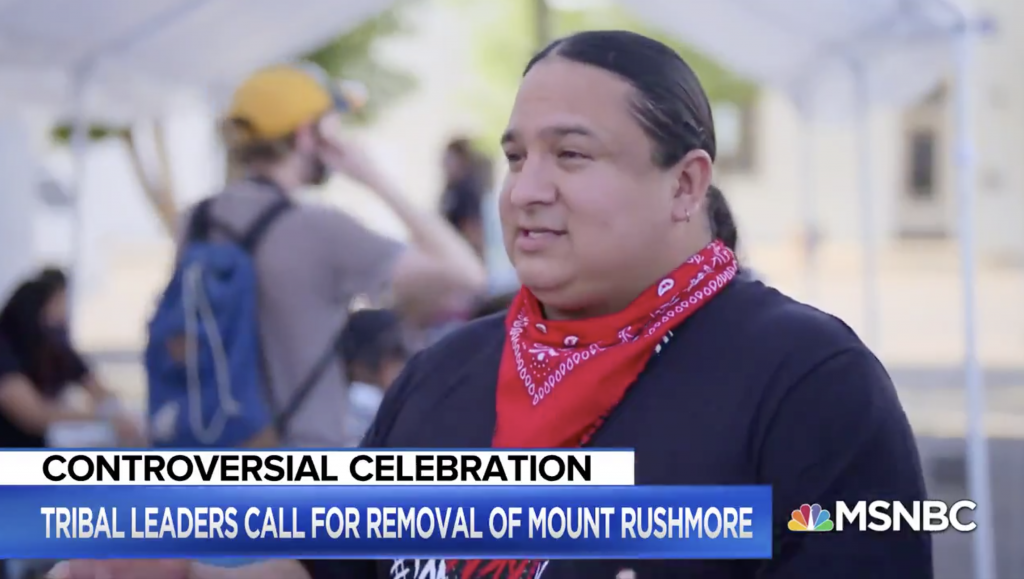 "The prosecutor has abused their position of power and privilege to try to silence myself and try to silence others," said Tilsen. "As we were combing through the details we found several violations that were not only Constitutional violations, but ethical violations, things that prosecutors shouldn't do. Prosecutors are not allowed to engage in vindictive prosecution."
Also speaking at the press conference, Hermus Bettelyoun, Oglala Lakota community member, announced a solidarity rally and march on Sunday, July 4, in Rapid City, protesting law enforcement's treatment of all Native people. Bettelyoun decried all local law enforcement agencies for their treatment of the Native population, "from unhoused relatives to our defenseless on the streets getting picked on, all the way up to people like Nick, who take a political stance," Hermus said. "Let's take a stand against the way police department and law enforcement agencies target and criminalize our communities."
The rally will start at 5:30 pm at Hailey park on Sunday, July 4, in Rapid City, and the march will commence there at the park and conclude at the Pennington County Jail.
###
** To request a copy of the motion, contact clpetoia@gmail.com **
About NDN Collective
NDN Collective is an Indigenous-led organization dedicated to building Indigenous power. Through organizing, activism, philanthropy, grantmaking, capacity-building, and narrative change, we are creating sustainable solutions on Indigenous terms.