For Immediate Release:
January 24, 2022
Rapid City, SD — Today, NDN Collective announced the hire of Teresa (Terri) Peterson, who will be taking on the role of Program Manager of the NDN Foundation and leading the planning and implementation of the newly announced $50 million Community Trust grant initiative from the Bush Foundation. Previously, Terri was a consultant for the NDN Foundation team where she facilitated much of their planning and development processes.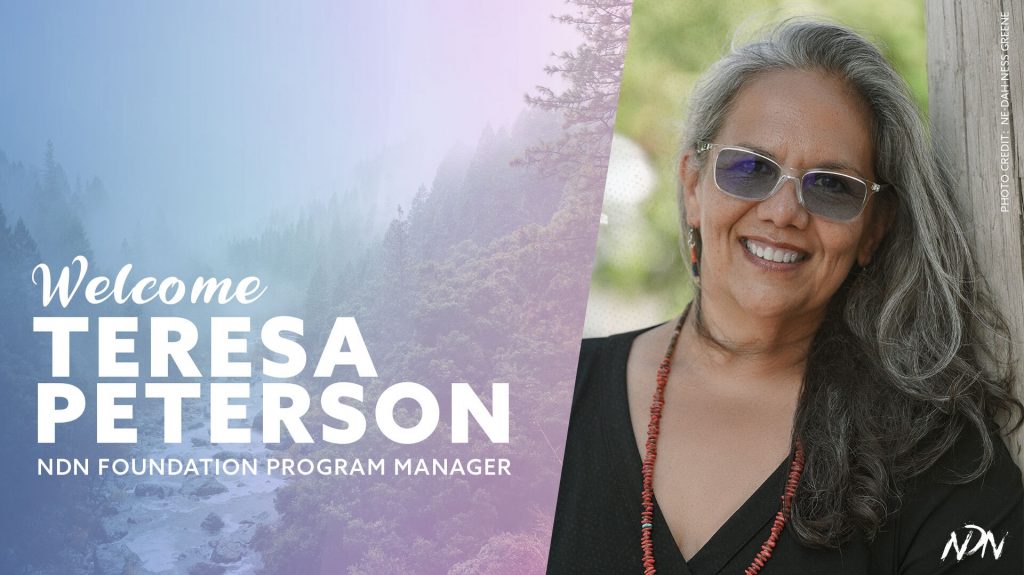 Terri is Sisseton-Wahpeton Dakota and a member of the Upper Sioux Community. She has worked with Native communities and organizations, as well as with educational and philanthropic allies focused on Indigenous education and community-based planning.
Terri holds an EdD from University of Minnesota-Duluth and an M.S. in Educational Leadership from Southwest Minnesota State University. She has taught in the Yellow Medicine School District, the Indigenous-led charter school Eci Numpa Woonspe, and at the University of Minnesota at Morris. She is a former elected Tribal leader of Upper Sioux and tribal planner for Lower Sioux. Terri also founded and led Dakota Wicohan, an Indigenous-led, community based nonprofit that works to revitalize the Minnesota Dakota language.
Additionally, Terri is the author of children's book Grasshopper Girl, which is based on Dakota stories of her family, and is the co-author of recently released Voices from Pejuhutazizi: Dakota Stories and Storytellers. She is an avid gardener and caretaker of heirloom seeds.
"I am honored to support the work in closing the wealth gap of Indigenous people alongside the NDN Collective family, and see this role as an incredible opportunity in the trajectory of social justice and coming together to heal," said Terri Peterson, NDN Foundation's new Program Manager. "We are working together to advance wealth building by and for Indigenous people, centering the voices of those directly impacted.
"That is why we will be spending the next several months in community engagement, holding discussions in North Dakota, South Dakota, and Minnesota to understand how our communities define wealth. In our first team planning session where we outlined our pathway and goals for the year, one of us shared,'I want our people to sleep peacefully at night.'
"We are dreaming of a future where Indigenous people are safe, and thinking boldly about what wealth building activities are needed to do that."
"We are absolutely thrilled and honored to have Terri join our team and to lead this transformational effort toward redefining wealth and collective abundance," said Gaby Strong, NDN Foundation Managing Director. "She will bring her full heart and brilliance forward as part of this historic moment where we are advancing notions of abundance that are truly aligned with Indigenous identity."
"We are fired up about Terri joining the NDN Collective team," said Nick Tilsen, NDN Collective President and CEO. "We continue to have people join our team who have a history of leading work directly with the communities they come from and live with.
"The lived practitioner based experience is something that Terri brings to our team and this work. We are excited to work together to close the racial wealth gap, on Indigenous terms. This is a true opportunity to design a strategy rooted in our real values as Native people. Terri brings a grounding approach to community engagement as we embark on this journey to plan, create, and implement something revolutionary for our people."
Teresa will be leading the planning and design phase of the initiative in 2022 with funding expected to be released in 2023.
###
NDN Collective is an Indigenous-led organization dedicated to building Indigenous power. Through organizing, activism, philanthropy, grantmaking, capacity-building, and narrative change, we are creating sustainable solutions on Indigenous terms.
To Request An interview Contact
CABOT PETOIA,
CLPETOIA@GMAIL.COM