for immediate release:
December 6, 2021
Rapid City, SD —NDN Collective is proud to announce the 2021 Community Self-Determination Partner Grantees, consisting of 92 Tribal, First Nations, Inuit, Metis and Indigenous-led nonprofit organizations across Turtle Island who will utilize $7 million of multi-year funding to support defending Indigenous lands and Indigenous rights, developing sustainable solutions for the future, and decolonizing Indigenous communities.
"We are honored to support so many Tribal Nations and Indigenous-led organizations, across Turtle Island and beyond, who are leading grass roots, movement building work in their communities" said Tina Kuckkahn, NDN Foundation's Director of Grantmaking. "We are rematriating wealth back into the hands of Indigenous communities, who know best how to determine for themselves a strong vision for the future."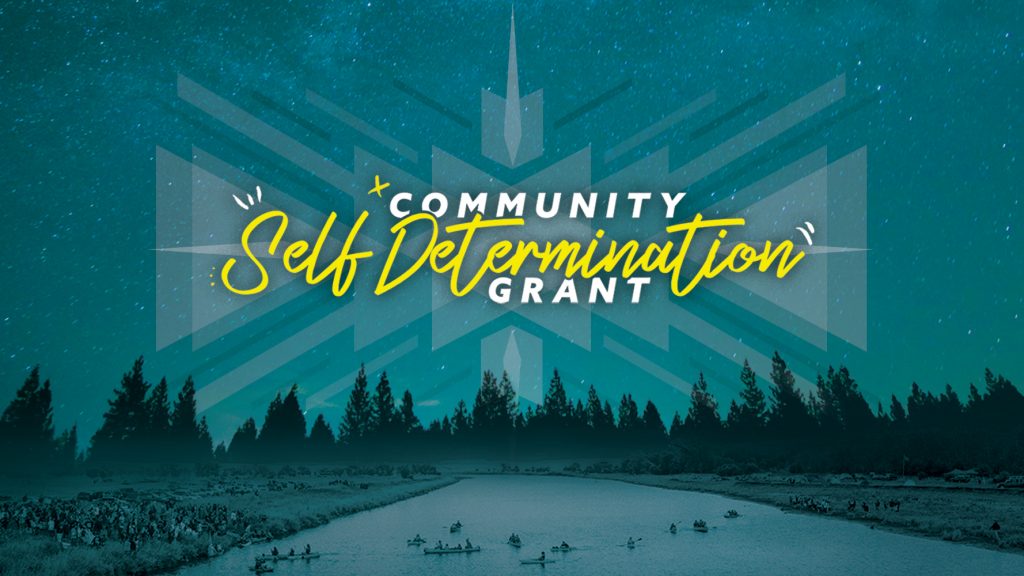 Over the course of up to two years, partner grantees will receive funding for general operating support, capacity building, capital and holistic support for comprehensive initiatives, specific programs and community development based on regenerative principles.
"It's an absolute honor to support the work and vision of so many Indigenous people across the post-colonial borders of Turtle Island, and to honor Community Self-Determination through a regenerative lens. Indigenous Peoples are defining and advancing their own priorities and solutions because they know their community better than anyone, and what it needs to prosper," said Gaby Strong, NDN Foundation's Managing Director.
Introducing the 2021 Community Self-Determination Partner Grantees:
• Aha Punana Leo
• American Indian Resource Center
• Asociación de Indígenas en Producción Agrícola del Estado de Chiapas, AIPAECH, A.C..
• Bad River Tribe
• Brave Heart Society
• California Indian Museum and Cultural Center
• Carrizo Comecrudo Tribe of Texas
• Centro Interdisciplinario de Investigación y Desarrollo Alternativo, U Yich Lu'um, AC
• Chugach Regional Resources Commission
• Comite de Derechos Humanos Fray Pedro lorenzo de la Nada AC
• Community Nimkii Azhibikong
• Conseil des Atikamekw de Manawan
• Consultora Especializada en Proyectos municipales S.C
• Cowichan Tribes
• Cultura Yucatan, A.C.
• Dakota Wicohan
• Dasiqox Tribal Park/MakeWay Charitable Society
• Delta N-90 Trappers Inc
• Dene Nahjo
• Desarrollo Comunitario y Cultural Ma Nguhe, A. C.
• Dream of Wild Health
• Dzawada'enuxw First Nation
• Euchee Yuchi Language Project, Inc.
• FAST Blackfeet
• Friends of the Akwesasne Freedom School, Inc.
• Fundación de Santa María Para la Promoción Indígena y Agroforestal A. C.
• Gidimt'en Checkpoint
• Gwich'in Steering Committee
• Hawaii Unity & Liberation Institute
• HoChunk Community Development Corporation
• Honor the Earth
• Hopi Tutskwa Permaculture Institute
• Hozho Center
• Indigenous Climate Action
• Indigenous Peoples Power Project
• International Indian Treaty Council
• Jittoa Bat Nataka Weri
• Ka Kuxtal Much Meyaj A.C. /Pueblo Maya
• Kalispel Tribe of Indians
• Keepers of the Water
• Keres Children's Learning Center
• Kuaʻāina Ulu ʻAuamo
• Lakota Youth Development
• LB Jinanki Yoreme Asociación Civil
• Lower Sioux Indian Community in the State of Minnesota
• Makoce Agriculture Development
• Mujeres Semilla
• Nā Waʻa Mauō Marine Stewardship Program
• Nááts'íilid Initiative
• NACA Inspired Schools Network
• Native American Community Board
• Native Conservancy
• Native Movement
• Native Renewables
• NEST Community Arts Center/SNAG Magazine
• Ndee BIkiyaa, The People's Farm/White Mountain Apache Tribe
• Nez Perce Tourism, LLC
• Nuchatlaht First Nation
• Ohe.laku
• One Rapid City
• Opata Tribe
• Patronato Pro Escuel Preparatoria por Cooperación de San Francisco Ixhuatán, Oaxaca A.C
• Pawnee Seed Preservation
• Pine Hill Indian Community Development Initiative
• Pine Ridge Girls School
• Pointe-au-chien Indian Tribe
• Proyecto de Desarrollo Rural lntegral Vicente Guerrero
• Pueblo of Tesuque Utility Authority
• Rainbow Fiber Co-Op/Navajo
• Reclaiming Our Roots
• Red Cloud Renewable
• Red Lake Band of Chippewa Indians (RLBCI)
• Red Terra Madre Indígena
• Relocate Newtok
• Rural America Initiatives
• Sicangu CDC
• Sitting Bull College Lakota Language
• Southeast Alaska Indigenous Transboundary Commission
• Sovereign Seeds
• TEK Elders of Robinson Huron Treaty
• TEK Stewardship Program – Mechoopda Indian Tribe of Chico Rancheria
• Thunder Valley
• Tiny House Warrior Project
• Tribu Lipan Apache en Nogales Sonora
• Tusweca Tiospaye
• Unidad de Fuerza Indigena Campesina
• Unión de Cooperativas Tosepan Titataniske
• United Confederation of Taino People
• Waadokodaading Immersion School
• Wambli Ska Society
• Wind River Food Sovereignty Project
• Yellow Bird Life Ways Center
Congratulations to the phenomenal Community Self-Determination Partner Grantees!
To learn more about NDN Collective's Grant and Fellowship opportunities please visit: https://ndncollective.org/grants-fellowship/
###
NDN Collective is an Indigenous-led organization dedicated to building Indigenous power. Through organizing, activism, philanthropy, grantmaking, capacity-building, and narrative change, we are creating sustainable solutions on Indigenous terms.