Contact: Aprill Turner, aprill@megaphonestrategies.com, 202-499-0120; or Cabot Petoia, cabot@megaphonestrategies.com, 828-899-9239
To book an interview, contact aprill@megaphonestrategies.com
NATIONWIDE — Today, NDN Collective released the following statement in response to the swearing-in of Joe Biden as the 46th president of the United States: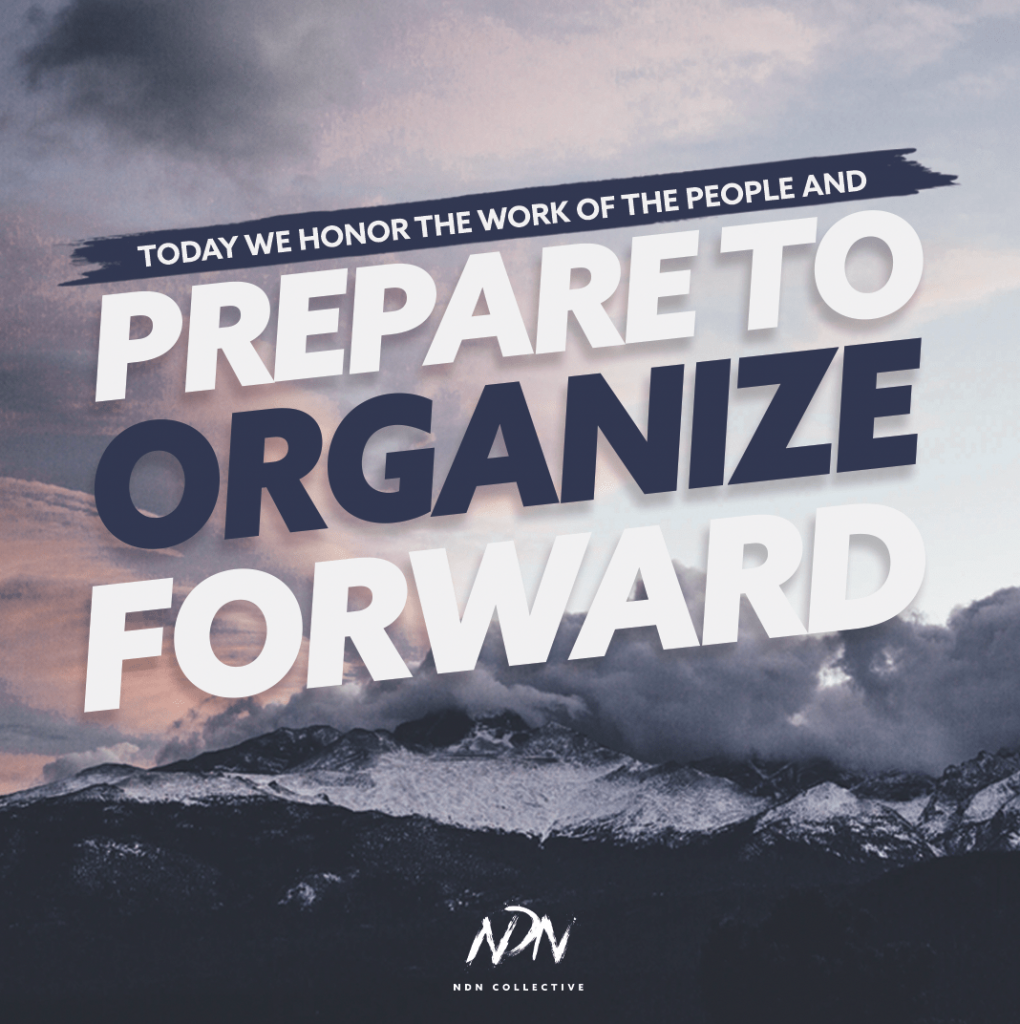 "Today, we celebrate the collective work of our people and movements who have organized, built power and helped deliver one of the most important elections in history" said Nick Tilsen, President and CEO of NDN Collective. "Today also marks the beginning of a new fight. We must work hard to hold the Biden-Harris Administration accountable and ensure that Indigenous rights are at the forefront. We call for a new policy era between the United States and Indigenous Nations. An era built on free prior and informed consent. An era of repair and racial reckoning, for us as Indigenous people, this means Landback. The returning of Indigenous lands back into Indigenous hands and tearing down the system of white supremacy that made it possible to steal our lands in the first place. Liberation of our people and our lands isn't fought in 4 year terms but we will use this moment in history to catalyze our movement forward." 
"As we celebrate today and welcome the Biden-Harris Administration, we honor all of the organizers on the ground who worked tirelessly to make this happen," said Korina Barry, Managing Director of NDN Action. "It has been a long and very harmful four years for Indigenous people and our Black and POC relatives. There is much work to do ahead as we fight to dismantle white supremacy and uproot systems of oppression. We hope the Biden-Harris Administration listens to and works closely with Indigenous people and Tribal Nations in this fight for justice. There is no justice without us."
"Indigenous peoples have long been ready to engage with presidential and congressional leadership that is committed to true inclusion of all peoples, expertise, wisdom, and practices that uphold the future for all – not just for a privileged few," said Nikki Pieratos, NDN Fund Managing Director. "Indigenous wisdom and experience begets better for all peoples across the spectrum of policy areas. We're enthused, and encourage our nation's leadership to continue leaning into this wisdom. NDN Collective promises to continue Indigenizing places and spaces."
"The Biden-Harris administration is the result of the collective movement of Indigenous people and all allies who believe in Climate Justice, Indigenous and Racial Justice," said Gaby Strong, Managing Director, NDN Foundation. "We're vigilant and we're organized and we'll continue to work with our people for Indigenous self-determination and prosperity that is just and equitable for all people and the planet."
"Two weeks ago, we watched as domestic terrorists attempted a coup on the sacred order of the democracy we hold dear," said Michelle Fox, Managing Director of NDN Partners. "In order to move forward, we must continue dismantling white supremacy throughout all levels of government, business, social, and legal institutions. Today's inauguration represents a renewed hope shaped by years of work in communities of color and throughout Indian country. We cannot sit idle, we must now focus on becoming fully engaged in the installation of progressive policies to ensure that the bloodshed of the last four years was not in vain."
NDN Collective organized the Sko Vote Den Virtual Intertribal and produced the Sko Vote Den Podcast, which aimed to drive voter engagement amongst Native people. NDN Collective also executed impactful social media campaigns and messaging to inform and encourage indigenous people to participate in the 2020 presidential election.
###
NDN Collective is an Indigenous-led organization dedicated to building Indigenous power. Through organizing, activism, philanthropy, grantmaking, capacity-building, and narrative change, we are creating sustainable solutions on Indigenous terms.