In the four years since NDN Collective officially launched as a movement-building organization, we have been honored to build Indigenous power alongside our People and our communities. Since our inception as an organization, we have taken an ecosystem approach to build Indigenous power with different entities within the collective working in tandem to support and invest in Indigenous-led efforts, businesses, organizations, Tribal Nations, grassroots changemakers, and frontline efforts across the continent. We are honored to say that four years later, we have accomplished much of what we set out to do and so much more.
Today, while still amidst an enduring pandemic, we have also risen to the challenge, innovating in the ways we show up for our communities. We have learned an incredible amount in the past year, and we look forward to continuing to build power with more Indigenous communities across Turtle Island in the future. Here are some NDN Collective highlights from the past year:
From the NDN Foundation:
"We constantly ask ourselves how we can set ourselves apart from other funding sources, making it as accessible and simplistic as possible while still being able to learn, to support grass-roots efforts and community driven priorities, and to be accountable to our communities." — Gaby Strong, NDN Foundation Managing Director
Highlights From the NDN Fund:
Organizing the NDN Fund Board of Directors
Creating and implementing an innovative set of Indigenized resilience lending principles
Deploying loan capital through our Relief & Resilience SEEDING initiative
Deploying loan and grant capital through our Moving Beyond Covid initiative
"NDN Fund continues to provide innovative financing and capacity building that synergistically promote resilient and regenerative Indigenous economic development projects," says Kim Pate, NDN Collective Vice President and Managing Director of NDN Fund. "Because our unique approach is deeply grounded in and receptive to the realities for our borrowers, we're creating a paradigm shift in Indigenous systems thinking that recognizes the interconnectedness of all things and our responsibilities to our homelands and each other."
Highlights From NDN Action:
The past year with NDN Action involved the work of four campaigns doing work in education equity, racial equity, climate justice, and LANDBACK.
"The past year with NDN Action has been a powerful journey working with our communities across Turtle Island to create the world we deserve—radically reimagining and fighting for the future we want for ourselves as Indigenous people," says Korina Barry, Managing Director of NDN Action. "We remain grounded in Indigenous values of community, kinship and land stewardship, and we are honored to do this work each day. Whether we are building community locally with our youth and unhoused relatives, or nurturing new relationships across colonial borders for LANDBACK and climate justice, we are committed to always keeping our people and our non-human relatives at the center."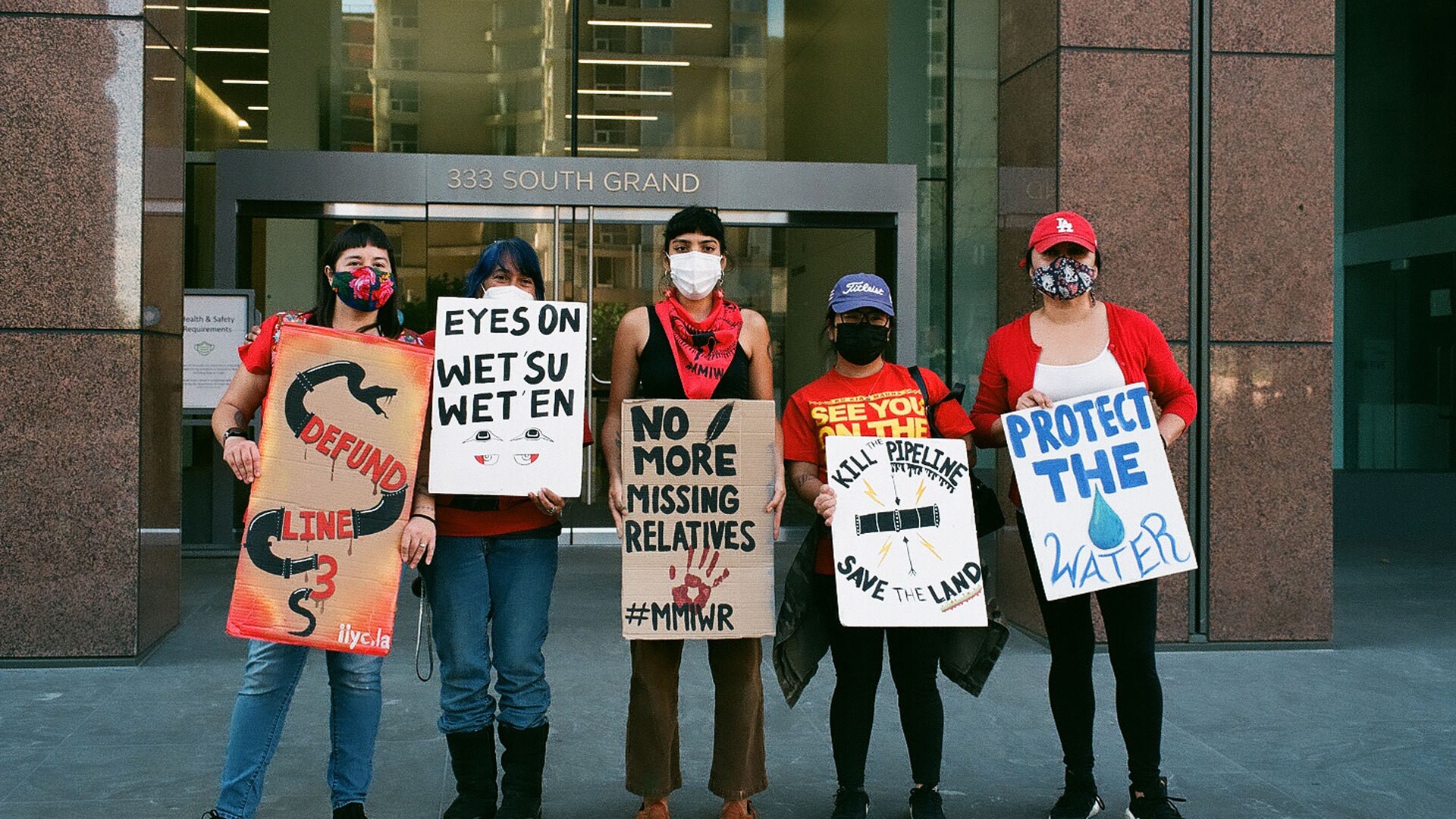 Education Equity Campaign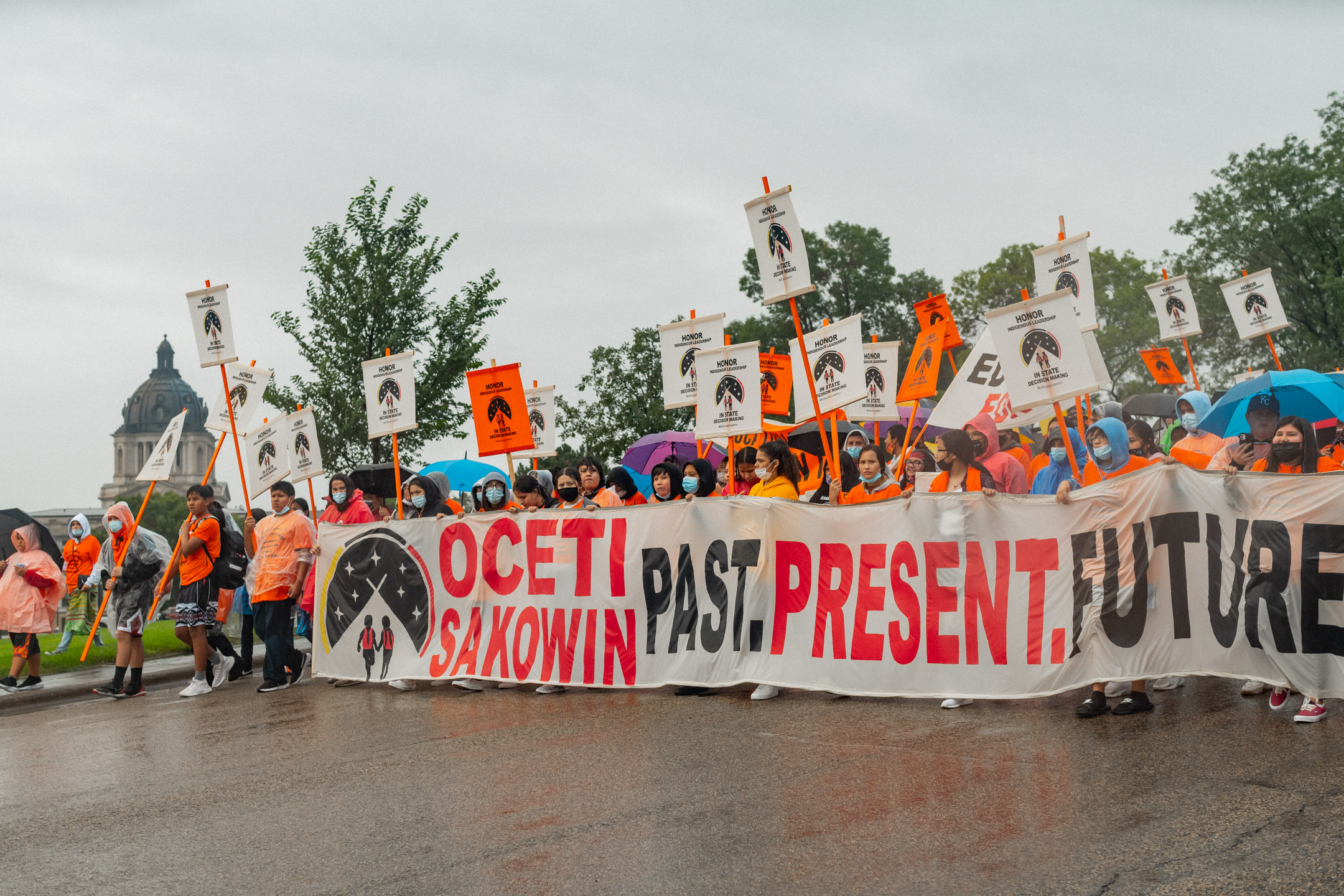 Racial Equity Campaign

Ongoing support of Camp MniLuzahan, a community-based solution to support Rapid City's houseless community.
Planning for ongoing housing solutions for houseless relatives
Launch of billboard campaign in Rapid City
"We are all visionaries in our own ways and we wanted to remind our relatives and neighbors of that brilliance within all of us as we work towards creating a beautiful future together." — Sunny Red Bear, NDN Collective Racial Equity Campaign Director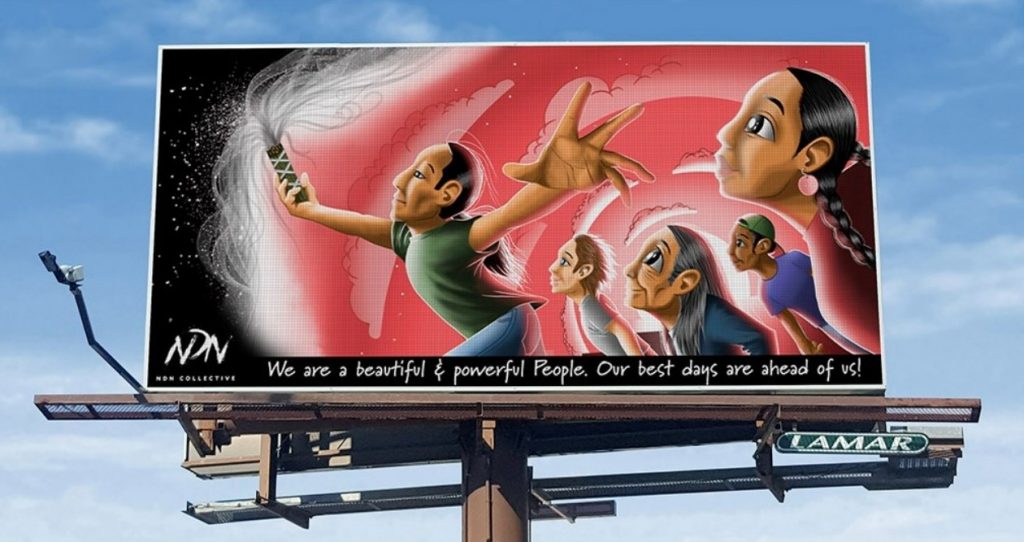 "As systems of colonization, oppression and white supremacy start to become dismantled, getting Indigenous lands back into Indigenous hands is necessary," said Krystal Two Bulls, NDN Collective LANDBACK Campaign Director. "Truth is, that all systems and institutions of oppression that uphold white supremacy were built on top of stolen land by stolen people; so to truly achieve racial justice and move into a revolutionary moment, we have to talk about how racial injustice on this continent began with settler colonialism, the theft of Indigenous lands, and the genocide of Indigenous people."
"At this stage in the climate crisis, we need more than just advocacy and marching for climate justice. We need to actively practice the skills that will prepare us for managing collapse and disaster," says Jade Begay, NDN Collective Climate Justice Campaign Director. "This campaign fully acknowledges the moment we're in and what is needed to support our people through these unprecedented times. We acknowledge that beyond policy, we need to support our people at the grassroots and frontlines –and if our political leaders won't listen to those impacted first and worst, or honor their knowledge, we will. We believe that our people already have all the skills, innovation, and strength to move forward in this crisis with grace and integrity, so we are here to support and resource that existing wealth of knowledge and build Indigenous power for climate justice. "
Highlights
From the NDN Collective Ecosystem:
Construction of the new NDN Collective Headquarters in Rapid City
Debut of the "DEFEND" blanket in partnership with 8th Generation and artist Votan
Completion of the DEFEND Mural at the Headquarters completed by Votan
Growing storytelling platforms from a decolonial Indigenous lens
Awarded a $50million grant from the Bush Foundation to redistribute to Indigenous people in the tri-state region of Minnesota, North Dakota, and South Dakota by late 2022.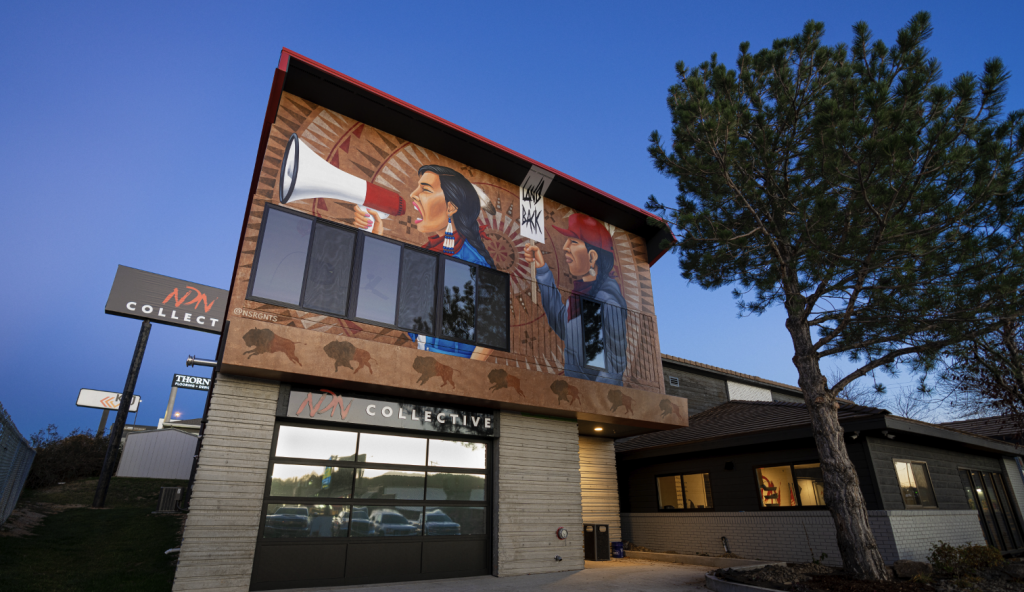 "Four years ago we created NDN Collective as a strategy to disrupt the status quo and begin to dismantle white supremacy by shifting resources and decision making power into the hands of Indigenous people to do the work of defending, developing and decolonizing," says Nick Tilsen, NDN Collective President and CEO. "Today, the dismantling of white supremacy is active in multiple levels throughout society. The world is just now beginning to witness a world where Indigenous genius, wisdom, power, innovation and pure ancestral courage is not only good for transforming Indigenous communities, but all communities."
"We are fighters, warriors, storytellers and community builders who carry both the pain of our ancestors as well as the resilience," said Tilsen. "Indigenous people are at the crossroads of some of the most pressing issues facing humanity today and it's been an honor to work with over 500 indigenous communities who are rebuilding their Nations, fighting on the frontlines and bringing back languages and cultures. There has been a shift in consciousness throughout society and indigenous people have played a fundamental role in that shift. It's an honor to witness the power of our people being unleashed throughout Turtle Island I am excited for the days and years to come."
In the coming year at NDN Collective, we will continue to build Indigenous power by supporting self-determination for Indigenous communities across Turtle Island while at the same time, working diligently to dismantle systems of oppression and white supremacy. Thank you for being in community with us.