FOR IMMEDIATE RELEASE:
FEBRUARY 11, 2020
Rapid City, SD — Native Nations, Tribal enterprises, and Native-owned businesses are underrepresented and disproportionately affected by COVID-19 and have less access to much needed capital and federal relief programs. In some parts of Indian Country, more than 50% of small Native businesses have reported closures and even more have had to lay off staff. Native Nations and their enterprises also report larger unmet capital gaps that have continued well past the first nine months of the pandemic. In response, NDN Fund—the lending arm of NDN Collective—is launching the Moving Beyond COVID-19 Relief & Resilience Loan Fund targeted at those Native-owned or Tribally-owned businesses that are either adversely impacted by COVID-19 or demonstrate operation in a high-demand industry.

Coupled with capacity building services, NDN Fund supports businesses in pivoting their business strategies to come out of the pandemic stronger and better positioned for long-term success.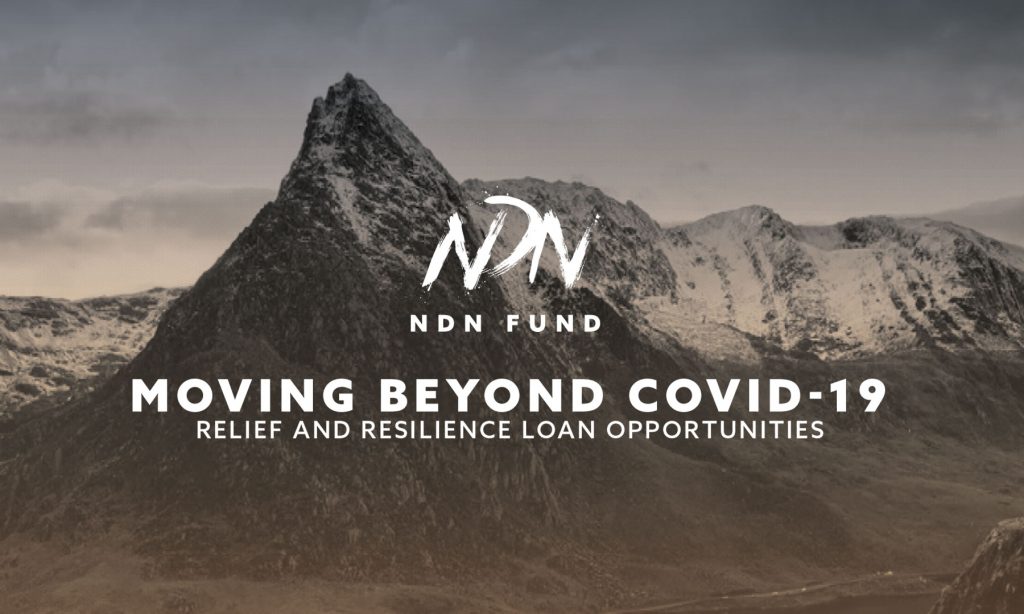 "COVID-19 has widened the disparity ratio that exists for Native businesses," said Nikki Pieratos, NDN Fund Managing Director. "Many of our enterprises are largely in food, entertainment, retail, and accommodation industries. This includes many tribal enterprises, which is critical, as their profits subsidize multimillions of dollars in tribal programs like healthcare, housing, elder care, and youth programs. More than ever, our communities and households are reliant on our Tribal businesses and family businesses for financial support."
This loan fund includes three lending lines: 1) Direct loans to small Native-owned businesses; 2) Pre-development and bridge loans for larger projects and developments that may have stalled due to the pandemic and; 3) Larger tribal enterprise loans. The entire range of loans is $10,000 to $500,000 depending on the fit and need of the individual enterprise. In addition, NDN Fund is providing limited capacity building services to selected borrowers to help them grow and market their business, maintain or develop a digital presence, financial analysis, manage a different supply chain, etc.
"Since the beginning of the pandemic, NDN Collective has been responsive to the needs of our artists and entrepreneurs with grantmaking, but we have learned that the capital needs are diverse in Indian Country, ranging from $10,000 for small businesses to over $1 million by tribal enterprises," says Pieratos. "We are responding to that need."
Outside of this loan initiative and core to its mission, NDN Fund is still investing in and building capacity in large-scale development in areas such as renewable energy and regenerative agriculture. This work will always continue, but NDN Fund—like the rest of the NDN Collective ecosystem—will always try to remain responsive to the emergent needs within our Indigenous communities.
"We have less than 70 certified Native CDFIs and 574 federally recognized tribes. Therefore, not every community has a Native CDFI, or as we recognize, a first financial responder on the ground," said Tawny Wilson, NDN Fund Loan Officer. " So, it is pivotal that NDN exists in this gap, though we understand the gap is much larger than one organization can fill and exists in the billions."

For more detailed information on eligibility and to apply, visit https://ndncollective.org/beyond-covid/. Here, you can also sign up for updates on upcoming tutorials, live webinar Q&A, and other tips for applying. Webinars will be offered on March 2 at 2:00 pm EST, and on March 5 at 2:00 pm EST.

ABOUT NDN COLLECTIVE
Founded in 2018, the NDN Collective's mission is to build the collective power of Indigenous Peoples, communities, and Nations to exercise our inherent rights to self-determination, while fostering a world that is built on a foundation of justice and equity for all people and the planet. We do this through building Indigenous power in partnership with the philanthropic and investment sectors. For more information, visit ndncollective.org.