For Immediate Release:
July 15, 2021
Rapid City, SD — NDN Collective officially launched their climate justice campaign, including a new webpage and video.
The newly-launched climate justice campaign released the following materials over the coming week:
The podcast In Our Power: Climate Justice, Self Determination and Regenerative Economies can be found on Spotify, future episodes will feature interviews with:

PennElys Droz, NDN Foundation Program Officer at NDN Collective, on Building Indigenous Power through Climate Justice
Pacific Alaska Birthworkers Network on Rematriation and returning dignity to Indigenous birth.
Jade Begay, Climate Justice Campaign Director on bringing accountability to the White House through her newly appointed role on the White House Environmental Justice Advisory Council.
Climate Preparedness Workshop – Adobe Building Workshop in New Mexico. October 15-16th, 2021.
"Dreaming the Indigenous Dream" Coloring Book

Created by Indigenous artist Aly McKnight, this free 7-page coloring book was designed around the need to support parents in talking to their children about climate change. This intergenerational resource depicts images and words that define climate justice through an Indigenous worldview.
Video – ""Dreaming the Indigenous Dream", narrated by Kailea Frederick and produced by the NDN Collective Climate Justice and Communications Team, is a short video that shares the vision of the Climate Justice Campaign and urges us to ask "what if the best times are ahead of us?"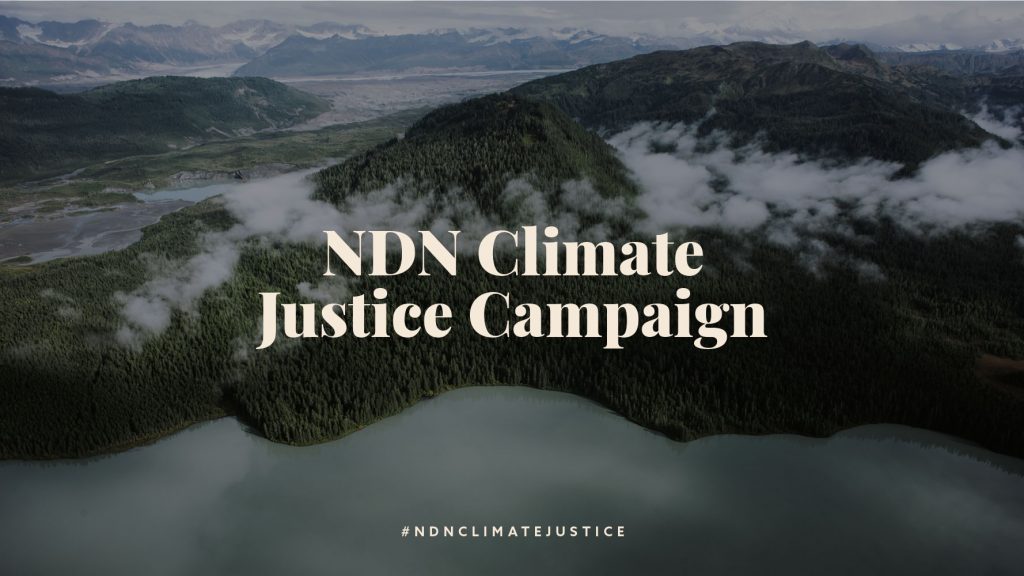 Jade Begay, Climate Justice Campaign Director for NDN Collective said:
"At this stage in the climate crisis, we need more than just advocacy and marching for climate justice. We need to actively practice the skills that will prepare us for managing collapse and disaster. We need our communities resourced with infrastructure that protects us. We need bold divestment from fossil fuels. We need to prepare our hearts and bodies for the grief that comes with the loss of land and of species. We need to build trust with our neighbors, so we can navigate crises and uncertainty together. This campaign fully acknowledges the moment we're in and what is needed to support our people through these unprecedented times. We acknowledge that beyond policy, we need to support our people at the grassroots and frontlines –and if our political leaders won't listen to those impacted first and worst, or honor their knowledge, we will. We believe that our people already have all the skills, innovation, and strength to move forward in this crisis with grace and integrity, so we are here to support and resource that existing wealth of knowledge and build Indigenous power for climate justice.
Kailea Frederick, Climate Justice Organizer for NDN Collective said: "Here at NDN Collective, our vision of climate justice is about bringing Indigenous people back into relationship with our land and ancestral ways. We descend from people who, pre-colonization, were able to freely practice land management practices that inherently mitigated climate change. Now that we stand at the precipice of ecological collapse, the directive has never been more clear; Indigenous lands must be returned to Indigenous hands, our communities need to be freed from the hostage of the extractive industry, and our mitigation work needs to be invested in and amplified. This campaign aims to be a reminder that our people hold the answers for a just world that is rooted in regeneration and balance. There has never been a more critical moment to follow our lead."
Nick Tilsen, president and CEO of NDN Collective said: "Our Climate Justice work is centered on deep values of Indigenous self-determination. We must both fight the fossil fuel companies and large extractive industries by creating solutions that catalyze a Just Transition into a regenerative new economy that protects Mother Earth, rebuilds whole communities, creates sustainable jobs, and heals our people. This campaign is going to create a wave of change throughout Indigenous communities as we reclaim our lands, waters, and build our collective power."
Watch the Full video Here
###
NDN Collective is an Indigenous-led organization dedicated to building Indigenous power. Through organizing, activism, philanthropy, grantmaking, capacity-building, and narrative change, we are creating sustainable solutions on Indigenous terms.