Indigenous peoples, as well as other low income, people of color and frontline communities, have been the first to experience the impacts of a changing climate. We are also the most affected by the contamination and exploitation of the extractive industries that are at the root of climate change. It is because of this lived experience that our frontline and grassroots communities must be engaged and considered early in the development of plans such as the Green New Deal for Cities Act of 2021 and the American Jobs Plan, especially when it comes to ensuring that resources are distributed to Native and Indigenous leaders who are at the forefront of building climate resiliency and solutions for their communities.
The Climate Justice campaigns within NDN Collective amplify Indigenous and frontline communities who are leading the way in defending their land, water, and air from contamination, and their people from exploitation and violence by the fossil fuel industry and the law enforcement agencies who back it. We advance policy changes, coalition building, and advocacy. Additionally, we support the solutions-based work happening across our nations that utilize traditional ecological knowledge in order to develop climate adaptive solutions that reflect our values of living with respect for all sources of life: land, water, and air.
As we celebrate and reflect on the momentus work done in the first 100 days of the Biden Administration, the NDN Fund — NDN Collective's lending arm — and NDN Collective's Climate Justice team would like to offer our expertise in relation to the recent release of several new proposals of legislation, including the Green New Deal for Cities Act of 2021, that was introduced on Earth Day, April 22, 2021, the American Jobs Plan, and Justice 40 as they pertain to Tribal Nations and communities. We believe offering guidance on how to properly resource our Tribal, Native, and Indigenous communities based on our success in this area will help U.S. elected officials ensure the rollout of legislation like this is both equitable and efficient. As we witnessed through the CARES Act, there is significant infrastructure lacking in making sure that federal funding reaches frontline communities, families, and individuals who need it most — which is why it's critical for policymakers to partner with organizations like ours who have built infrastructure that allows us to work directly with our communities every single day.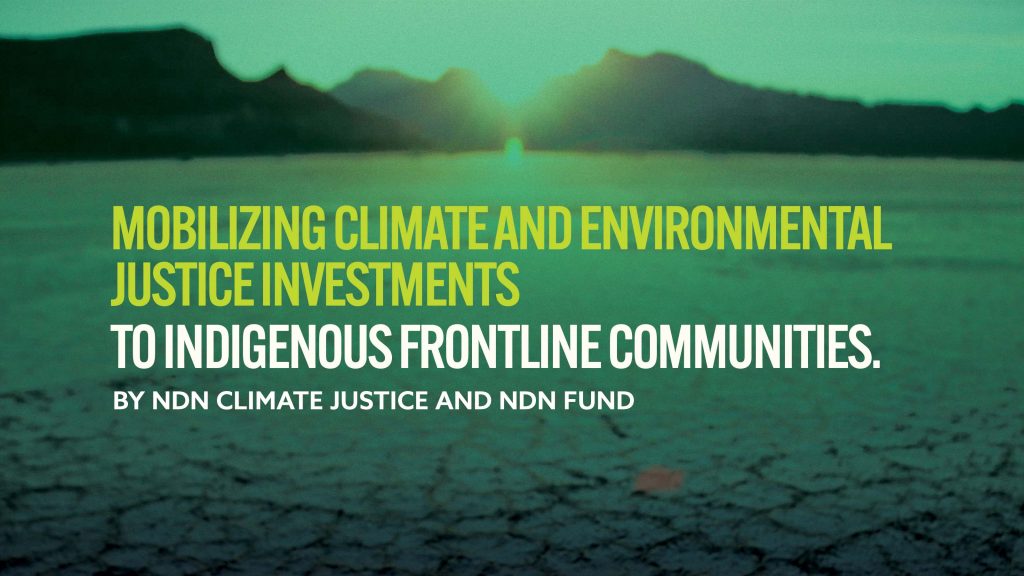 We are encouraged by the most recent Green New Deal for Cities Act of 2021, which rejects false solutions like carbon trading and offsets, and recognizes that climate justice is intertwined with issues affecting not only energy and infrastructure, but also jobs and our overall livelihoods. And while we are thrilled to see the $10 billion Community Revitalization Fund within the American Jobs Plan and the Justice 40 initiative to deliver 40% of the overall benefits of relevant federal investments to disadvantaged communities, we believe it is imperative to understand and address the funding and capacity needs to support the large-scale investments desperately needed to meet the critical jobs, housing, workforce, and clean infrastructure and energy needs for the public—especially Indigenous, low income, and frontline communities— as well as to respond to the climate and compounded health and economic crisis caused by COVID-19.
Additionally, it is important to remind legislators that Native Nations are the 13th largest employer in the U.S. – supplying over 700,000 jobs. Tribes generated over $30 billion in 2020 in revenue, and are the economic anchors of many parts of rural America. Centering Indigenous peoples and lands is more than an issue of equity and justice — it's also a matter of building a nation with a thriving rural and agricultural economy.
Below, we have drafted a list of capacity and infrastructure needs that must be addressed to ensure that federal funding is channeled most equitably.
The core recommendation is that federal funding and programming cannot focus on our Tribal governments alone. The opportunity cost of not investing in the private sector is too high. There are over 100 Native financial institutions (including NCDFIs), thousands of non-tribally owned non-profits, economic development corporations, and other key Indigenous-led intermediaries that can help channel and manage resources, in order to help our communities and entrepreneurs make the best and highest use of the large influx of capital through the Green New Deal for Cities Act of 2021, American Rescue Plan Act, and other targeted funding.
Invest in building capacity and employment within Tribes to better understand how to build regenerative business plans and apply funding into climate resiliency. We believe that it is an issue of equity to distribute and channel resources to where they are needed most. Oftentimes, in Tribal communities and nations, non-Native agencies are hired to apply funding. If these proposals are passed and funding makes its way to Tribal Nations, departments and capacity must be built and filled by Native and Indigenous peoples who best understand the issues facing their people and communities.
Create access to technical assistance and improve outreach for federal funding opportunities. We know from extensive work in moving resources to Tribes and Indigenous communities that there are significant issues and gaps when it comes to moving large amounts of capital in Indian Country, and this must be acknowledged in the implementation of the American Jobs Plan, Justice 40, and Green New Deal for Cities Act of 2021. On the one hand, there are billions of dollars in infrastructure needs left on the table every year and an estimated housing shortage of up to 250,000 units (a number that only includes housing on federally-recognized tribes, leaving out tribes that are still unrecognized by the U.S. government and does not acknowledge the dire need for rehabilitations to existing tribal housing). On the other hand, many Native Nations do not have access to existing grants or technical assistance in areas like the Department of Energy's Office that would support the strategic planning and development of renewable energy projects in Indian Country. Further, not all Nations have the physical, governmental, or organizational infrastructure to take on these funds. There is a lot of groundwork that needs to be done in our communities that is continuously overlooked by the federal government. The Biden Administration must work with Tribes to create capacity for technical assistance for Tribal citizens and Indigenous peoples to understand and troubleshoot available grants, as well as invest in capacity to promote grant and funding opportunities in multiple languages and through various platforms. However, each federal agency must devote long-term resources and staff towards working one-on-one with individual Tribal Nations to help them achieve the institutional, legal, and human capital foundations to make the most out of future funding and capital opportunities. Native Nations and entrepreneurs alike emphasize the dire need for deep and long-term capacity building services to do meaningful development. This improves our ability to make decisions that focus on smart innovation and growth to address issues affecting our world's climate.
Invest in clean jobs in Indian Country. In addition to large capital gaps, our communities also have a severe shortage in living wage jobs. In the over 600 Indigenous communities within the U.S. (including unrecognized tribal communities), over 50% of Natives live on reservations where the number of jobs per resident is very low. Very few tribes and reservations experience higher employment rates due to gaming, but generally gaming is not a viable business for tribes or reservations. Take, for example, how the pandemic shut down many tribal casinos and gaming. To reverse the trend of low employment within Tribes, economists and industry experts underscore the need for significant expansion of private enterprise. As this expansion happens with funding from Justice 40, the Green New Deal for Cities Act of 2021, or the American Jobs Plan, we must create accountability to ensure that new enterprise is rooted in equity and regenerative principles, so we are not perpetuating the status quo that continues to increase the racial wealth gap and leave countless people behind.
Build and develop the private sector. For years, economic growth in Indian Country has been highly dependent on the Native public sector: as Native Nation governments expanded and tribal government-owned corporations grew, community economic development followed. This growth led to greater well-being for many community members. Yet, as ongoing lags in income and employment levels attest, public sector growth alone cannot create truly flourishing Indigenous economies. We need strong and thriving private sectors, built up by Native entrepreneurs. Such private sector growth has the potential to drive further economic transformation—although many Native entrepreneurs need financial and logistical support before they can catalyze change. Native entrepreneurship and private sector development offer another option for raising tax revenue and buttressing tribal sovereignty. To the extent that businesses located on homelands use community resources—roads, utilities, law enforcement, workforce training—Native Nation governments could levy modest gross receipts or value-added taxes on Native-owned businesses to help pay for those public goods and services.
Improve infrastructure such as roads, broadband, access to utilities and water. One dire issue both Native Nations and businesses face are physical infrastructure challenges, from limited road access and insufficient utility hook-ups to extremely limited choices for workspace. For example, broadband internet access, which is critical for research, networking, marketing, operations management and more, may exist at only a few sites in the community. For those located on tribal trust land, there are sometimes also cumbersome leasing and titling turnaround issues that exist within the US Dept of Interior's Bureau of Indian Affairs. Due to the intertwined issues around housing, infrastructure, and land, any federal response must include an interagency taskforce or solution to streamline and remove bureaucratic red tape that often prevents development and access to programming and funds.
In addition to these recommendations, we want to highlight the importance of including community members and stakeholders in the process of Free Prior and Informed Consent, as recognized in the United Nations Declaration on the Rights of Indigenous Peoples, in all levels of government — especially when building plans and policies that impact Indigenous communities. In 2019, NDN Collective shared recommendations in Mobilizing an Indigenous Green New Deal that stressed the importance of Native Nations having a greater say in managing public lands and balancing the drive to build renewable energy infrastructure in ways that center Indigenous peoples and their lands. We also made the recommendation to reject false solutions like carbon trading and offsets, as the carbon market does nothing to stop the fossil fuel industry from continuing its destruction of lands, communities and climate. Now, the Green New Deal for Cities Act of 2021 includes both a requirement for Free and Prior Informed Consent of Indigenous peoples around changes affecting our communities and territories, as well as the prohibition of false solutions or projects. This monumental requirement needs to be the practice of every arm and agency of the federal government, and should be centered in plans such as the American Jobs and the Tackling the Climate Crisis at Home and Abroad Executive Order.
U.S. governmental agencies can look to NDN Collective's approach to projects we finance as an example of how to drive equitable, sustainable growth. For example, we are working with businesses and tribal ventures in both large-scale solar and wind power across the country, while remaining cognizant of the nuances that every project holds. Even renewables can have negative externalities for the ecology and overall well-being of our communities. For example, wind farms can result in habitat loss, deforestation, and fragmentation, negatively impacting wildlife and plant life if there is not meaningful upfront planning. As part of NDN Fund's Resilient & Regenerative capacity building offering, we work with projects to address those nuances early on and source the appropriate Indigenous energy experts and consultants to help design either a technical or systems solution that preserves or even enhances the surrounding lands. As the Biden Harris Administration works to electrify our cities and tribes and expand solar energy, there must be consideration and acknowledgment of these nuances and processes institutionalized to hear and learn about how these solutions will impact Tribal and Indigenous lands. In addition, processes of accountability must be implemented to track how solutions impact Indigenous Peoples, both domestically and abroad.
The holistic nature of plans like Green New Deal and the Green New Deal for Cities Act are inherently Indigenous. Our communities' cultures and worldviews are well practiced in holding a long view of health that is inclusive to all who call this Earth home. As our original position paper on the Green New Deal states, "The time has come to invest in and expand Indigenous-based Just Transition economies, infrastructure, social and cultural movements, and climate solutions." We know it to be true that once our people are well resourced and networked, we are able to change the world through building equity and justice for all people.
About NDN Fund and NDN Collective Climate Justice Campaign:
NDN Fund, along with the entire NDN Collective ecosystem, is creating a paradigm shift in economic development by grounding investment strategy in Indigenous systems design, recognizing the interconnectedness of all things and our responsibilities to our homelands and each other. Through our Resilient & Regenerative Lending Principles, Capital Screens, and underwriting practices, we are supporting not only new ways of capital flow to support communities, but also capacity building to help our Native Nations, developers, and lenders access the tools and resources to actualize climate, social, and cultural resiliency and regeneration. NDN Collective supports economic practices that ensure the maintenance and increase of our land base, sovereignty, and rights. NDN Fund provides financing for large-scale Indigenous resiliency and regenerative community and national development projects that dramatically scale up investment and shift all decision-making power to Indigenous peoples. We prioritize renewable energy, infrastructure (especially roads, telecoms, and water), regenerative agriculture, and housing as the key foundation of all economic development in Indian Country, rural America, and beyond.
The NDN climate justice campaign supports Indigenous and frontline communities who are leading the way in defending their land, water, and air from contamination, and their people from exploitation and violence. We support policy change, coalition building, and advocacy. We support the Indigenous solutions-based work happening across our nations to revitalize our traditional food systems and agroecology, build new, community led renewable energy systems and initiatives, develop climate adaptive and zero net energy housing, and transform the way our transportation and economic systems operate to reflect our values of living with honor and respect for our sources of life.