We knew all along that this COP in particular would not be inclusive despite promises from Alok Sharma, President of COP26. This lack of inclusivity largely leaves out Indigenous negotiators and observers – especially those from the Global South – from engaging and influencing important conversations about the future of our communities and ways of life. It is widely understood that these communities continue to be at the frontlines of the worst impacts of climate change, yet our voices and our Black and POC allies' voices are being largely ignored, silenced, and erased.
One of the major talking points for U.S. leaders participating in COP26 is H.R. 5376, or the Build Back Better Act. In reality, the currently proposed Build Back Better Act, is another piece of legislation that fails to address the total concerns of Indian Country. Once again, the federal government fails to live up to their federal trust responsibilities in equipping our communities with the tools and resources to navigate global crises like climate change and COVID-19.
The How the Build Back Better Framework Helps Native American Communities Factsheet is remarkable in its language, but does not provide a full realization of the needs and solutions of American Indian, Alaska Native, and Native Hawaiian communities throughout Indian Country.
Of particular concern in the Build Back Better Act is Section 70105, entitled, "Native American Consultation Resource Center." This "Center" would operate under the auspice of "Consent." However, as Indigenous & frontline communities we know that our future cannot be left to consultation, which is a colonial tool that largely negates consent by allowing U.S. officials to stamp a piece of paper saying they talked with tribal leaders, regardless of what actual conversations looked like. Section 70105 particularly ties together land rights with cultural rights, an understanding from the United States federal government that we as Indigenous people are tied to our land in culture, respect, understanding, and caretaking.
The Build Back Better Act also contains no mandate around consent from tribes regarding fossil fuel projects that continue to negatively affect our treaty rights in projects like the Dakota Access Pipeline (DAPL), and Enbridge's Line 3 and Line 5 projects. These fossil fuel infrastructure projects have undergone the process of "Consultation," but they have not been through the vetting process of Consent with the Indigenous and frontline communities most severely impacted.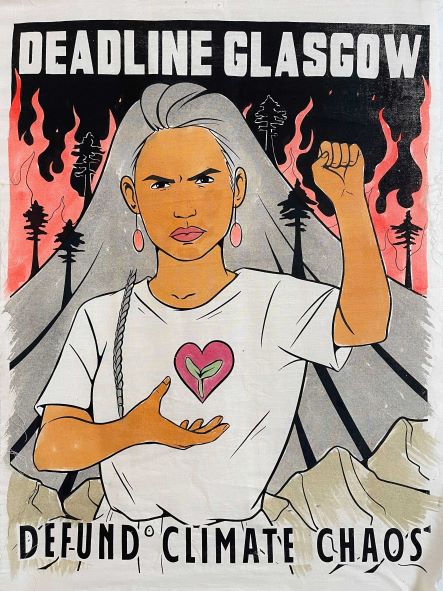 In order to establish an equitable and "Just Transition," it is imperative that resources are shifted and allocated to Indigenous and frontline communities as part of a package of solutions rooted in restorative, climate and racial justice. We cannot begin to build ourselves out of this global destruction without also healing the lands and communities that have been devastated by the actions of colonial imperialists and fossil fuel extractors.
On May 24, 2021, NDN Collective's Climate Justice Campaign and the NDN Fund released a memo detailing how the United States federal government could begin to move resources into the hands of Indigenous and frontline communities throughout Indian Country. This memo was created in response to proposed legislation like the Green New Deal for Cities Act of 2021 and the American Jobs Plan. Although these legislative proposals have changed, our directive has not — and these same solutions are applicable to Justice40 and the Build Back Better Act.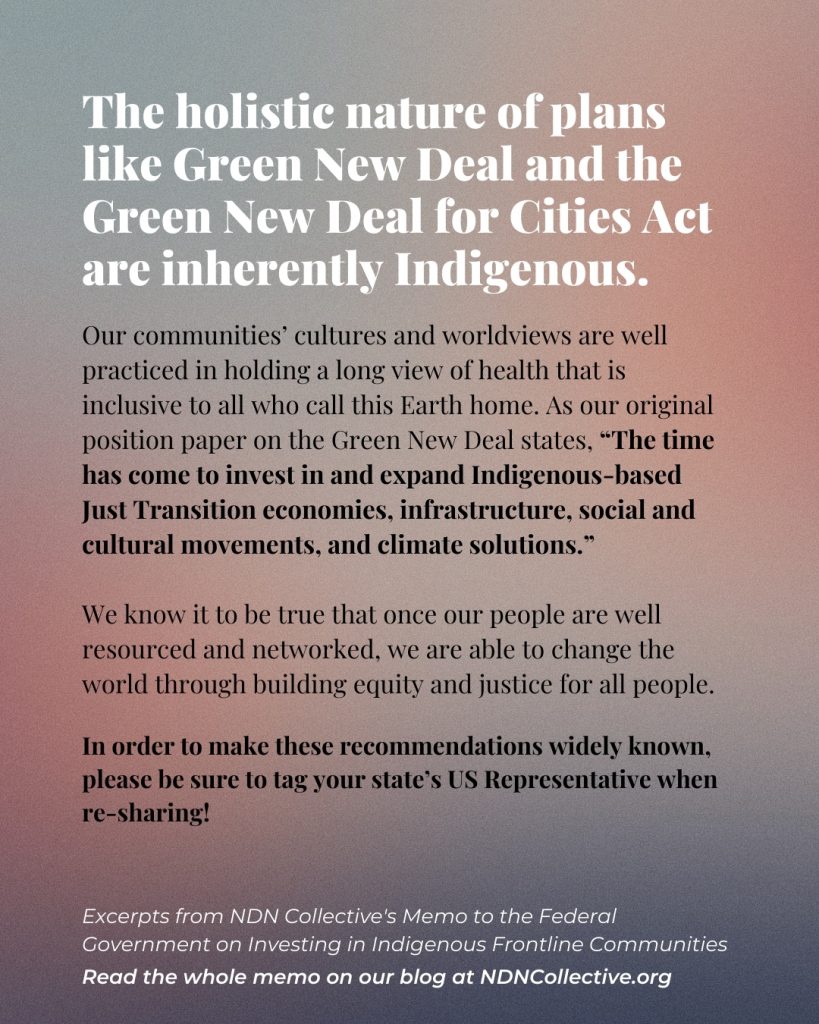 We unequivocally demand that Free, Prior and Informed Consent (FPIC) is grounded within every aspect of policy decision making, from ideation to implementation, and we once again restate our recommendations:
The core recommendation is that federal funding and programming cannot focus on our Tribal governments alone;
Invest in building capacity and employment within Tribes to better understand how to build regenerative business plans and apply funding into climate resiliency;
Create access to technical assistance and improve outreach for federal funding opportunities;
Invest in clean jobs in Indian Country;
Build and develop the private sector; and
Improve infrastructure such as roads, broadband, access to utilities and water.
By following these recommendations, the United States federal government can begin to honor and live up to their federal trust responsibilities and provide the resources necessary for Tribes to engage in a more full realization of self-determination.
Our message is as important as ever as politicians from around the globe continue to deflect their responsibilities by uplifting false solutions to climate change — such as net zero and "nature-based solutions" — and erasing the voices of our people. Politicians are turning a blind eye to the needs of Indigenous and frontline communities, while using exploitative colonial financial structures and nefarious accounting balancing tricks.
Domestic policy in the so-called "United States" has moved forward without the concerns of Indigenous and frontline communities being taken seriously. This has created shifting targets that leave our communities most vulnerable.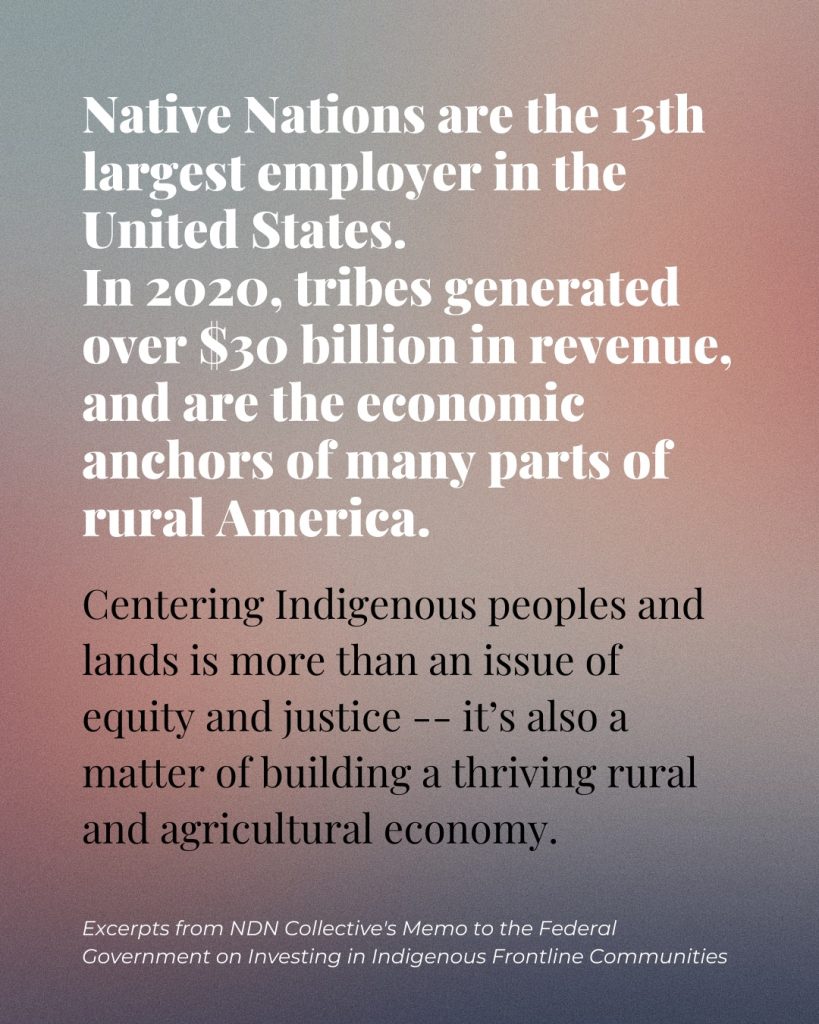 Treaties are the Supreme Law of the land under Article 6, Section 2, of the United States Constitution. However, without a full realization of Free, Prior and Informed Consent, our communities cannot move forward in a way that honors treaty rights that have been established in treaties, federal statutes, and judicial decisions.
We are not surprised by the lack of adequate funding that continues to plague the realities of a full realization of treaty rights throughout the entire language of the Build Back Better Act. We are not surprised by rhetoric that is meant to appease our communities. But we will not be silenced.
We demand direct action in the form of climate justice reparations for Indigenous communities.
We demand that politicians stop uplifting platitudes like net zero, and instead uplift Indigenous solutions that can get us to real zero.
There is no future for any living beings without concrete solutions to the climate crisis rooted in traditional ecological knowledge. There is no future for life itself without Indigenous Consent.