The 2021 South Dakota State legislative session kicks off a new year of education equity organizing for NDN Collective and the South Dakota Education Equity Coalition. The coalition (SDEEC) was established in August 2019 by the Education Equity team at NDN Collective to improve educational opportunities for Native American students in the State of South Dakota with an innovative and multi-pronged approach to decolonize and Indigenize education.
"We are a community of cross-sector stakeholders committed to promoting diverse, equitable, and inclusive learning environments for future generations," said Sarah Pierce, NDN Collective Director of Education Equity.  "The primary purpose of SDEEC was to create an alliance in support of a bill to support education equity for Native students in the State of South Dakota. In 2020, Senate Bill 66 was the first iteration of our Oceti Sakowin Community-Based Schools Bill."


In last year's legislative session, Senate Bill 66 (SB 66) was introduced as a bill to enable the creation of schools that would engage the South Dakota Native community in a community-based school model infused with Oceti Sakowin (Lakota, Dakota, Nakota) culture. In the 2020, SB 66 was supported unanimously by all nine Oceti Sakowin Tribes in the state, the State Tribal Relations Committee, Tribal Education Directors, the Great Plains Tribal Chairman's Association, and many other leaders in Indian education. The bill was passed unanimously in the Senate, but failed to make it out of the House Education Committee.
This year, the SDEEC is back with a new bill, Senate Bill 68 (SB 68), and a renewed commitment to get the bill passed. 
"Since the close of the 2020 Legislative Session, SDEEC has worked diligently to educate and inform those in opposition to last year's bill (SB 66) on the merits of the bill. We made a collective decision to re-introduce the same legislation in the 2021 Legislative Session." said Pierce. "When a system perpetually underserves an entire demographic, it is a clear indication that authentic change is necessary to create something that is both responsive to needs and yields successful outcomes. That's what this bill aims to achieve for Indigenous students in South Dakota."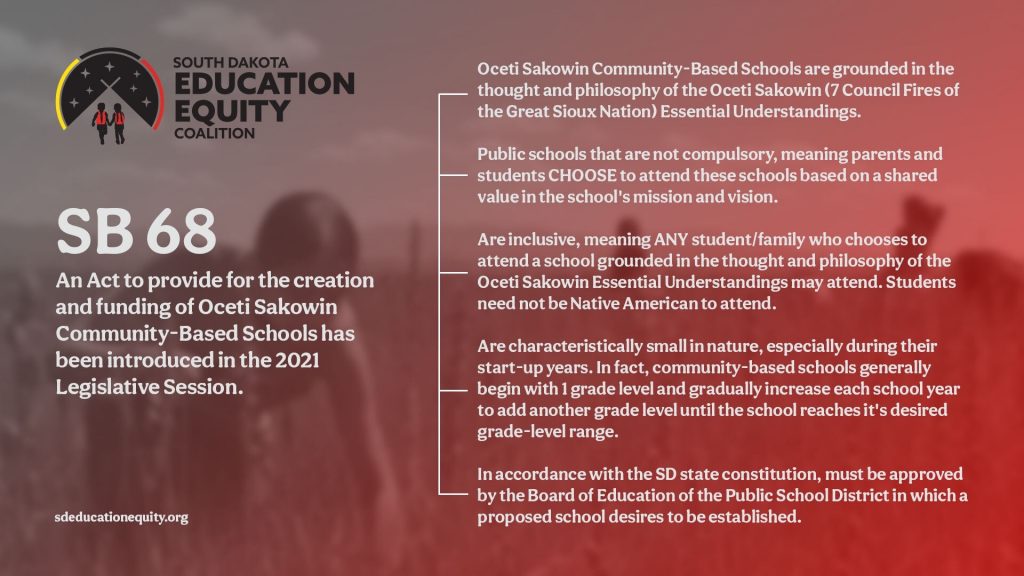 "Senate Bill 68 is a viable solution to a longstanding issue in Indian education that has been identified repeatedly by state legislators, educational administrators, teachers, and families and yet was never adequately addressed." said Amy Sazue, NDN Collective Education Equity Organizer. "This is a sustainable and measurable solution generated by Indian Education practitioners and community members, and can serve as a model of success for systems across the state. We have nothing to lose."
As the South Dakota Education Equity coalition prepares for the 2021 legislative session, they are asking individuals in support of their efforts to call their legislators, voice support for the bill and the concept of Oceti Sakowin Community Based Schools. South Dakota legislators and their contact information can be found here.  Support is also appreciated in the form of signatures on the coalition's petition on change.org. 
To learn more about the South Dakota Education Equity campaign and sign up for updates, visit h

ttps://sdeducationequity.org

.