NDN Collective and Kauffman & Associates, Inc., are partnering to bring a four-part webinar series on effective grant writing to Indian Country as a part of NDN Collective's outreach to Tribal Nations and Indigenous communities to help them plan and implement long term recovery strategies and access resources to mitigate the impacts of COVID-19.  
Beginning with an overview on October 1, the series will cover budget preparation, proposal writing, and implementation. Each 90-minute session will include instruction and printable materials to help organizations apply the strategies.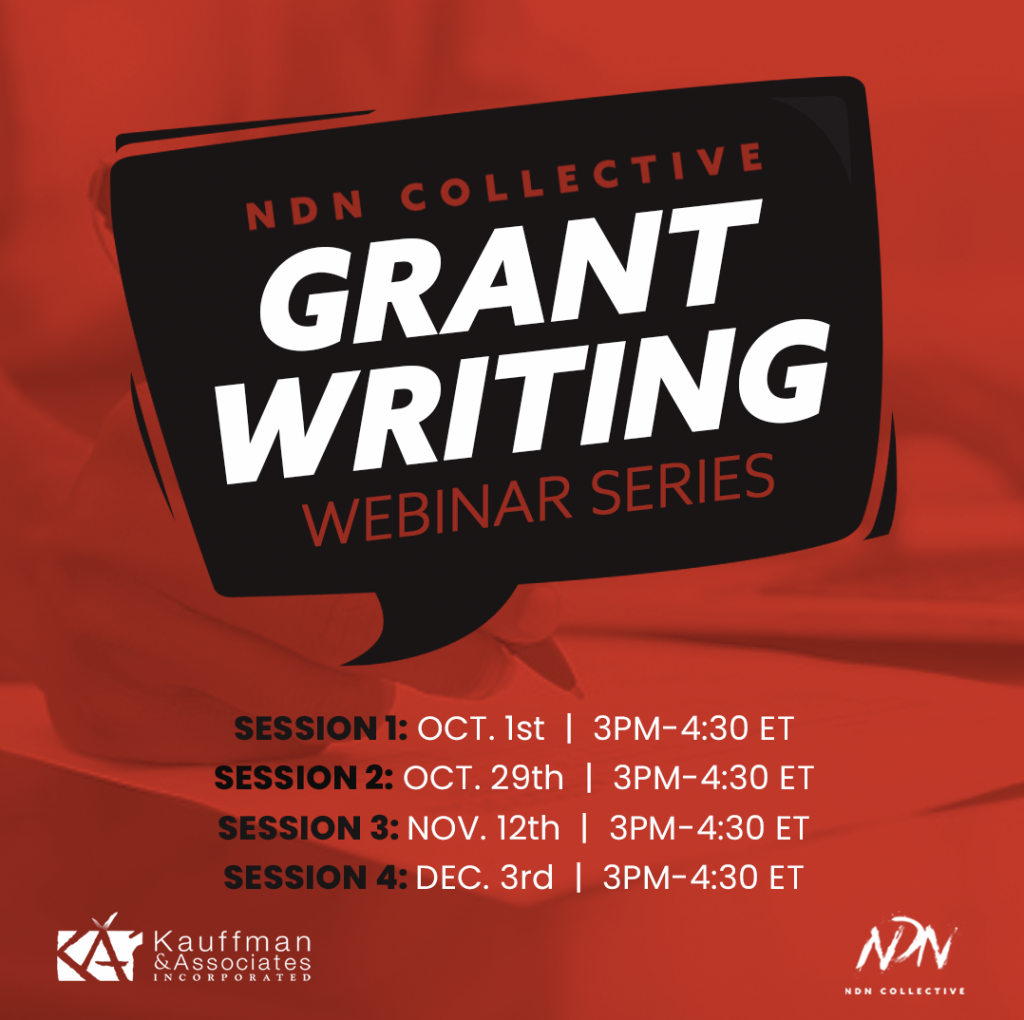 The panel will feature Crystal Tetrick, Vice President of Health Issues and Policy, Dr. Janet Gordon, Vice President of Education Systems, and Anna Whiting Sorrell, Intensive Training and Technical Assistance Coordinator. All three panelists work for Kauffman & Associates, Inc. Each panelist brings a unique perspective on writing effective grants to support initiatives in Indian Country. 
The webinar series will be held October 1, October 29, November 12, and December 3, from 3:00-4:30 pm EST / 2:00-3:30 CST / 1:00-2:30 MST / 12:00-1:30 PST. Participants can sign up for the entire four-part series or choose specific sessions. 
For more information and to view the session topics and register, visit:
https://kauffmaninc.zoom.us/webinar/register/WN_m6UoFe3pR5eBDkf8cvEdUA
About NDN Collective:
NDN Collective is an Indigenous-led organization dedicated to building Indigenous power. Through organizing, activism, philanthropy, grantmaking, capacity-building and narrative change, we are creating sustainable solutions on Indigenous terms. Together, we decolonize and transform systems while providing tools and strategies for Indigenous self-determination and movement-building.
About Kauffman & Associates, Inc.
Founded in 1990, Kauffman & Associates, Inc., is an American Indian– and woman-owned management consulting firm dedicated to improving the lives of vulnerable populations and enhancing the reach and effectiveness of social sector organizations. We combine stories of lived experiences with meaningful, data-driven insights to reach underserved communities.