For immediate RElease:
November 10, 2021
Rapid City, SD — Today, NDN Collective released "Demilitarization is Decolonization", a position paper on militarization authored by NDN Collective's LANDBACK Campaign team, naming the military industrial complex as a pathway for exploitation and destruction of Indigenous communities within the so-called United States and internationally.
On Veteran's Day, NDN Collective will be hosting a livestream conversation with Native veterans and members of the LANDBACK Campaign Team, discussing and unpacking the position paper. The conversation will be streamed on NDN Collective's Facebook, YouTube, and Twitter accounts on Thursday, November 11, at 12:00 MST.
NDN Collective shared the following statements:
"We want to highlight our unique position as people living within the heart of U.S. empire and those who are victims of the empire, on Turtle Island and in our communities abroad. We want to unmask U.S. Militarism in all of its forms, as an extractive and destructive industry, as a culture, as a system that upholds American hegemony and control all around the world. We also want to pose the question, where do we go from here? We hope that this paper helps ground some of the problems and potential solutions starting here at home." — Nadya Tannous, NDN Collective LANDBACK Organizer
"The U.S. military is the most destructive, most wasteful, most violent, and most funded military in the world. When we say we are antimilitarist or want demilitarization, we're not saying we are against our aunties, uncles, cousins, parents, or grandparents who have served. What we're saying is that we're against the system and culture that the U.S. military has created and violently imposes on Indigenous communities globally." — Demetrius Johnson, NDN Collective LANDBACK Organizer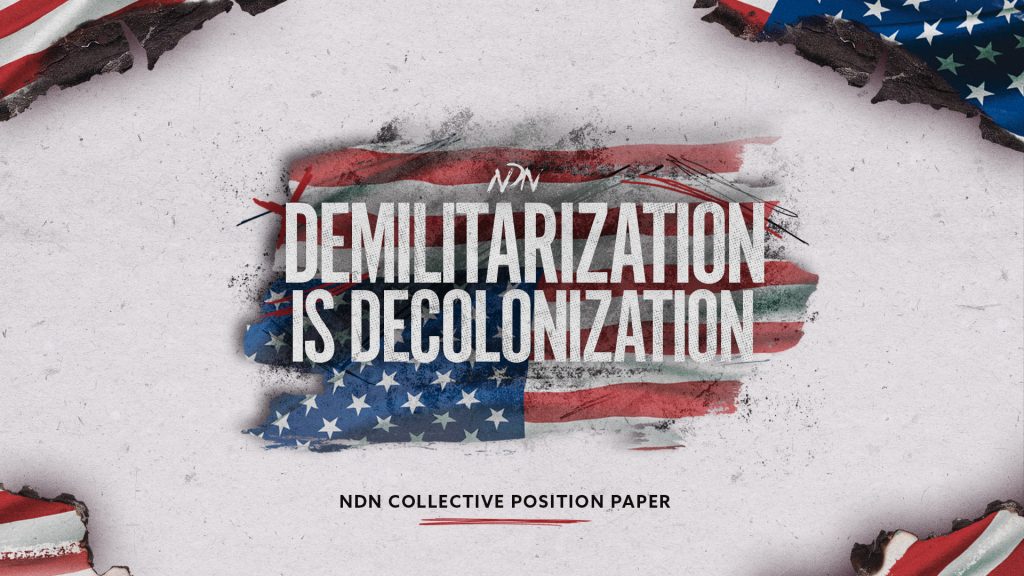 "At NDN Collective, we honor our warriors, warrior societies and veterans for their commitment to our lands and our people. Yet while we honor them, we also call out the United States government and the military industrial complex for the violence, destruction and negative impacts that U.S. imperialism has had on our lifeways. All throughout the Indigenous world we are rebuilding our warrior societies and warrior culture. We are rebuilding them on our terms, in alignment with our values— not through the indoctrination of the U.S. military rhetoric. We are fighting for the liberation of Indigenous Peoples and our lands; in order to do this, we need to defund the military, reclaim militarized lands, and build the communities of tomorrow." — Nick Tilsen, NDN Collective President and CEO
"Within our communities there can be space for two truths about militarism: First, we can create space for honoring our relatives who have risked and lost their lives fighting to protect their communities and homelands serving in the U.S. military. And secondly, we can also hold space to acknowledge the harm, destruction, and violence that the U.S. military has inflicted against people and the land globally. It is our hope that this paper can serve as a resource for having open and honest conversations within our communities and how we can imagine and build a demilitarized future." — Korina Barry, Managing Director of NDN Action
###
NDN Collective is an Indigenous-led organization dedicated to building Indigenous power. Through organizing, activism, philanthropy, grantmaking, capacity-building, and narrative change, we are creating sustainable solutions on Indigenous terms.
---
TO Request an Interview Contact:
Cabot Petoia
CLPETOIA@GMAIL.COM