Who is Representative Deb Haaland
Debra Haaland is an American politician who has been in the U.S. Representative from New Mexico's 1st congressional district since 2019.
Haaland is a former chairwoman of the Democratic Party of New Mexico
Along with Sharice Davids, she is one of the first two Native American women elected to the U.S. Congress
Haaland is a member of the Laguna Pueblo people and a 35th-generation New Mexican.
Haaland's legislation has had more Senate companions than any other representative's in the 116th Congress.
The congresswoman has also led, co-sponsored and whipped influential and bipartisan votes for more bills than any other freshman.
Haaland passed four Progressive bills in the 116th congress:
Progress for Indian Tribes Act – Bill aims to uphold the government-to-government relationship and fulfill the trust responsibility that the federal government has with Tribal Nations.
Native American Business Incubators Program Act – This bill establishes a grant program to provide business incubation and other business services to Native American entrepreneurs and businesses. Specifically, the bill requires the Department of the Interior to establish a grant program in the Office of Indian Energy and Economic Development for establishing and operating business incubators that serve Native American communities.
Not Invisible Act – This bill increases the coordination of efforts to reduce violent crime within Indian lands and against Indians.
Department of Veterans Affairs Tribal Advisory Committee Act – This bill directs the Department of Veterans Affairs (VA) to establish the Advisory Committee on Tribal and Indian Affairs to advise the VA on matters relating to Native American tribes, tribal organizations, and Native American veterans.
What is the Department of Interior?
The United States Department of the Interior (DOI) is a federal executive department of the U.S. government. It is responsible for the management and conservation of most federal lands and natural resources, and the administration of programs relating to Native Americans, Alaska Natives, Native Hawaiians, territorial affairs, and insular areas of the United States, as well as programs related to historic preservation
The department is administered by the United States Secretary of the Interior, who is a member of the Cabinet of the president.
Within the Interior Department, the Bureau of Indian Affairs handles some federal relations with Native Americans including, Bureau of Indian Education, Indian Gaming , Indian Energy and Economic Development , Office of Self-Governance and many more operating units related to Native and Indigenous communities and peoples.
Voters Support Native LeadersHip In The Interior: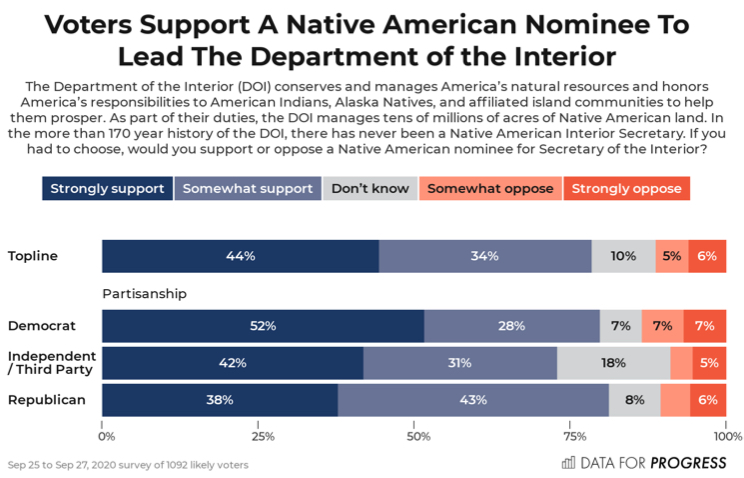 Voters Support New Interior Department Policies Put Forth by President Biden: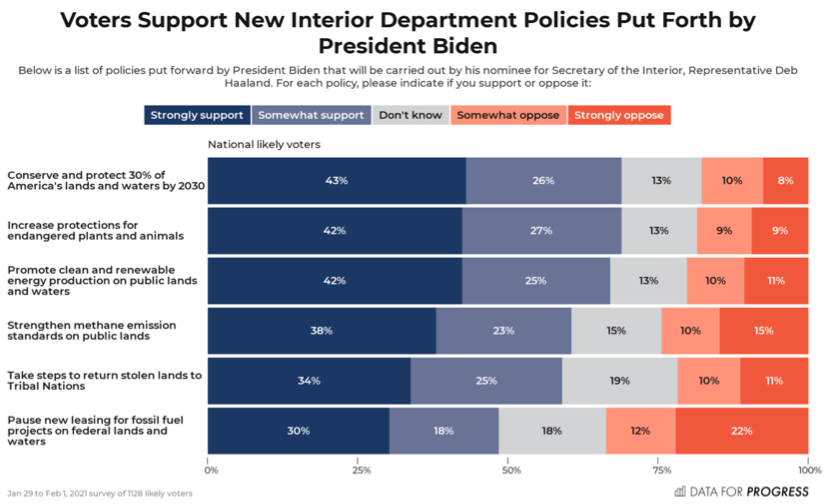 Download graphics here to share on your social media pages or use for educational purposes:
5 Reasons Why Rep. Deb Haaland Should Be Secretary of the Interior
Rep. Deb Haaland's Legislative Track Record
So You Want to Talk About Rep. Deb Haaland for Secretary of the Interior
So You Want to Talk About The Department of the Interior
Five Articles and MEMOS to Read on Rep. Deb Haaland's Nomination as Secretary of Interior:
What a Joe Biden Cabinet Pick Would Mean for Native Americans and Democrats
– Julian Brave Noisecat
Native Americans Finally Have Cabinet Nominee. Will an Adopted Tlingit Take Her Down
– Julian Brave Noisecat
Six Popular Policies Rep. Deb Haaland Can Enact As Secretary of the Interior
– Data for Progress
When Justice and Politics Match: Deb Haaland Should be Biden's Interior Secretary
– Data For Progress