For Immediate Release:
October 5, 2021
Glasgow, Scotland — Today at COP26, NDN Collective hosted a meeting between the White House National Climate Advisor, Gina McCarthy, and Indigenous and Frontline youth from across Turtle Island.
The group spoke on the importance and challenges of climate adaptation for tribal communities, accelerating the transition from fossil fuels, and unlocking the benefits of the clean energy transformation for tribal communities.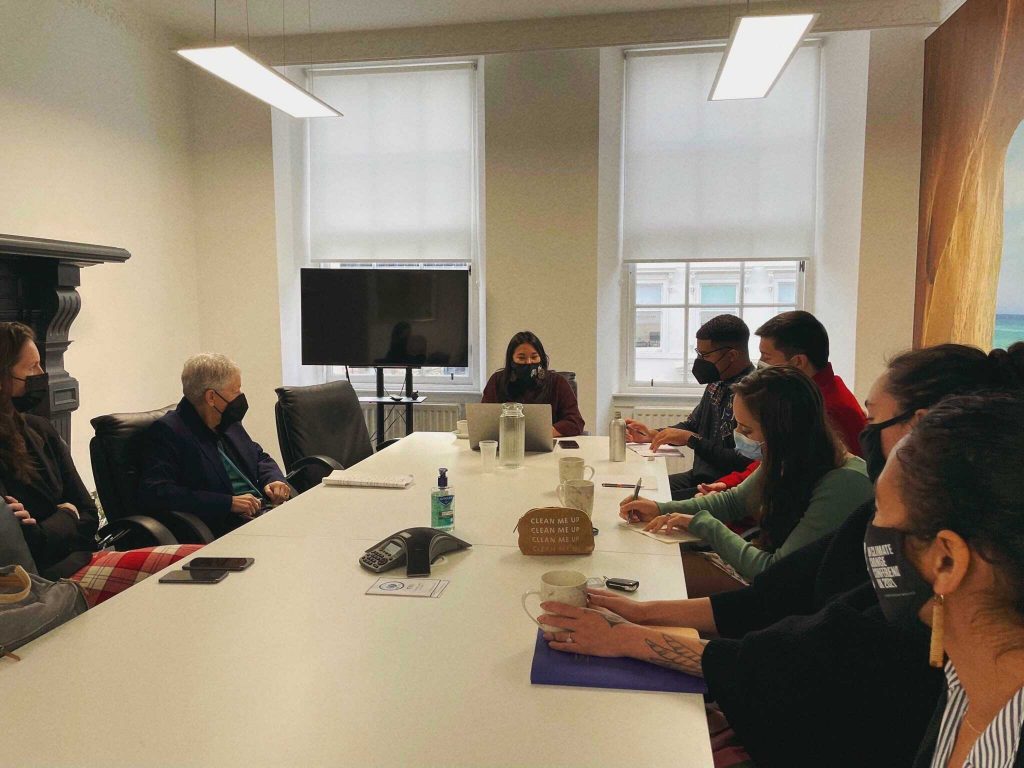 They shared specific challenges and opportunities in navigating the climate crisis in their respective communities — which range from the Arctic refuge, to the Gulf Coast, to the desert in Navajo Nation, and are seeing some of the most extreme impacts of climate change and the beginnings of migration in response to climate crises.
During the meeting, NDN Collective uplifted their recent memo, How the Build Back Better Act Can Meaningfully Mobilize Investment to Indigenous Communities and Uphold Free Prior and Informed Consent in the Process.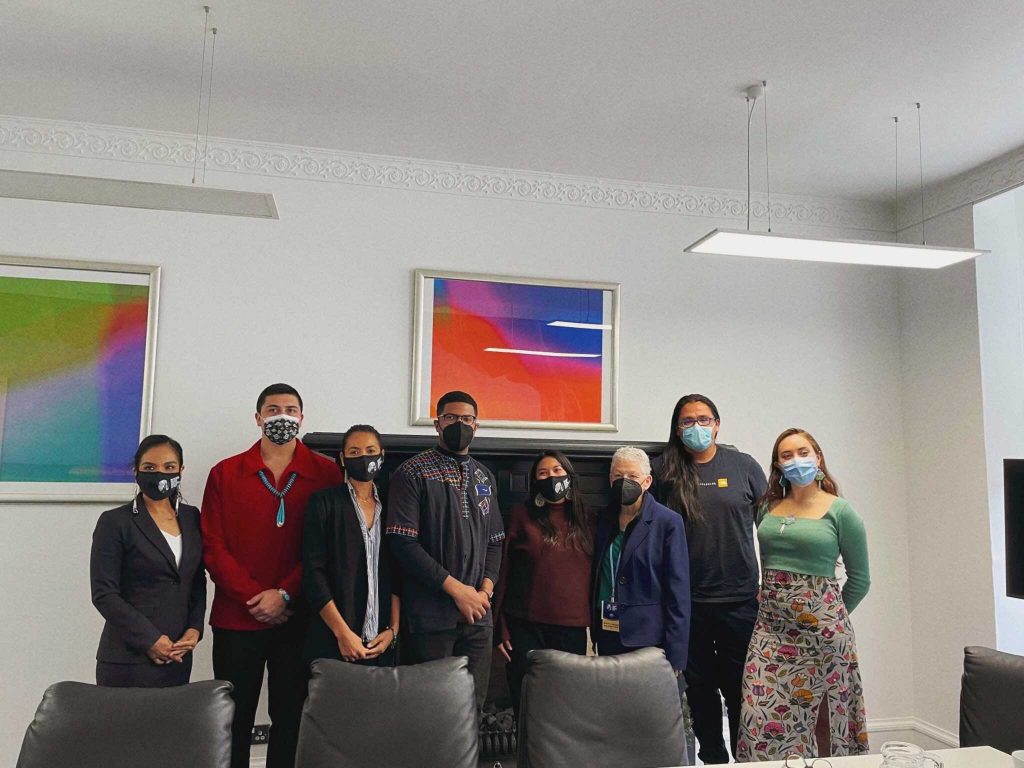 The following frontline leaders shared ways their communities are currently dealing with the impacts of climate change, and made specific recommendations around how the federal government can be part of the solution:
Ruth Miller, climate justice director for Native Movement
Maka Jinaatlaa Monture, Always Indigenous Media
Dr. Michael Charles, post-doctoral fellow at the Newark Earthworks Center and Indigenous Environmental Network delegate
Wes Gobar, Red Black Green New Deal
Jade Begay, director of the Climate Justice Campaign and member of the White House Environmental Justice Advisory Council
Kailea Frederick, Climate Justice Organizer and member of the city of Petaluma Climate Action Commission
Ben Yawakie, Climate Justice Organizer and member of Minnesota's Environmental Quality Board and the International Joint Commission's International Red River Watershed Board
Lycia Maddocks, Political Director at NDN Collective
"Today's conversation was equally important for building relationships with the White House Climate Team as well as making concrete recommendations on how to strengthen what is being proposed in the Build Back Better Act," said Jade Begay, director of NDN Collective's climate justice campaign and member of the White House Environmental Justice Advisory Council. "Climate and environmental justice organizers and policymakers have an unprecedented moment to get it right with the Build Back Better Act — but we have to work collaboratively, with feedback from Indigenous and frontline communities actually implemented.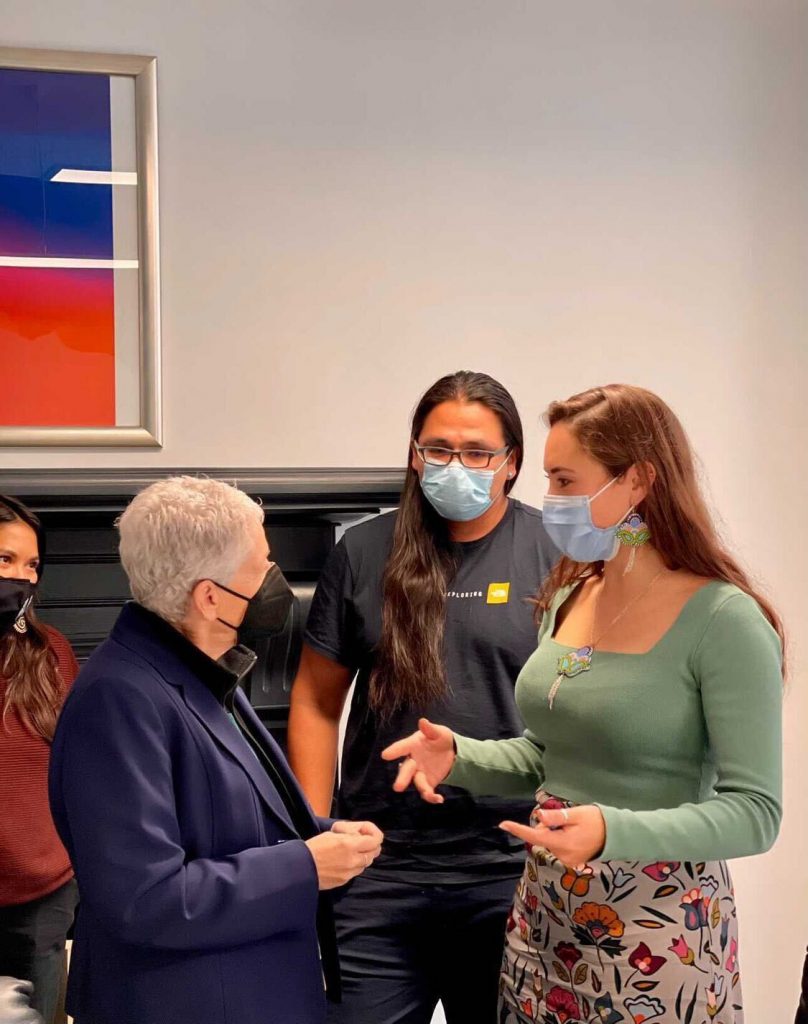 "One of our goals at COP26 was to strengthen partnerships between government officials and Native leaders who need a seat at the table to guide and advise on climate policy, based on proven solutions and generations of traditional ecological knowledge. Today's meeting, which centered the voices of frontline youth, provided a critical space for people to bring climate solutions directly to those in positions of power. We need to see meetings like this replicated and consistently held to ensure their communities' most urgent needs are getting addressed."
After the meeting, Gina McCarthy posted on Twitter, saying "This morning I met with tribal youth to discuss how the #BuildBackBetterAct will invest in a cleaner, more just future. Thank you @ndncollective for hosting me for this important conversation. I'm looking forward to our continued collaboration. #COP26."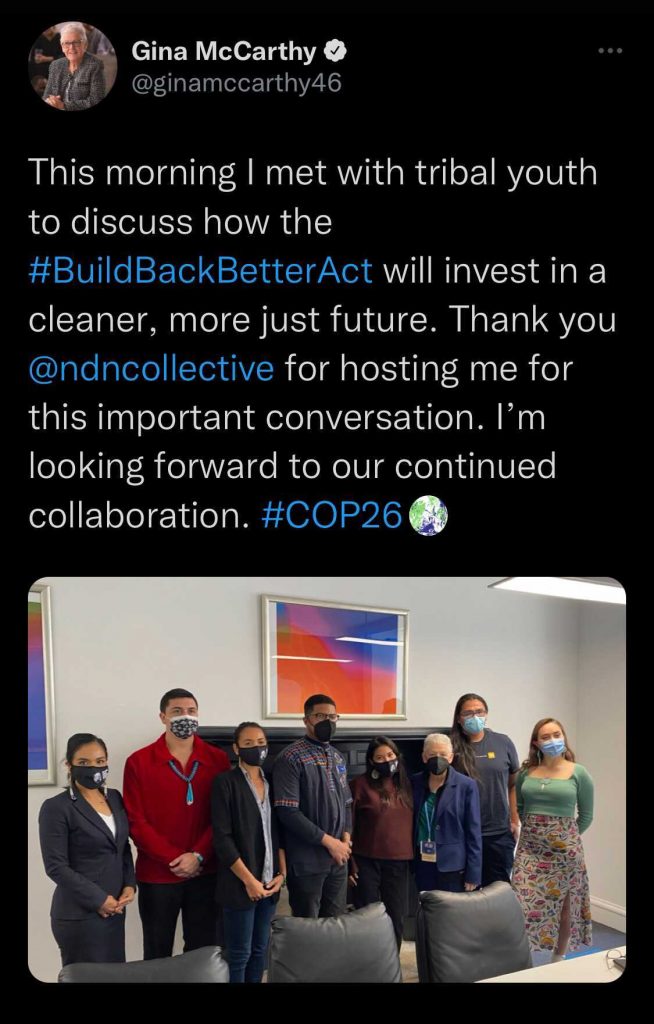 ###
NDN Collective is an Indigenous-led organization dedicated to building Indigenous power. Through organizing, activism, philanthropy, grantmaking, capacity-building, and narrative change, we are creating sustainable solutions on Indigenous terms.