Originally published at Stanford Social Innovation Review (SSIR) as part of a special in-depth series with NDN Collective.
---
I grew up going back and forth from the Twin Cities area and the Pine Ridge Indian Reservation, raised by parents who met during the occupation at Wounded Knee. Both of my parents were deeply involved in the Civil Rights and Red Power movements of the 1970s—my mom, a Lakota woman and activist, and my dad, of Jewish lineage and coming from a family of civil rights activists—radicals who understood that to make change in our society, we have to strike injustice at the root. Humanity deserves no less than urgent, radical transformation in order to achieve justice for Indigenous people, for all people, and the planet.
The past year of social unrest, coupled with the COVID-19 pandemic, has illuminated this urgency. Today, as I sit here in my home in the community of Porcupine on the Pine Ridge reservation, writing from my kitchen table while overlooking the rolling hills of trees surrounding me, I am not only reminded of the struggle and hardship that our people have endured, but of the resilience, innovation and solutions created by our communities. Indigenous leaders are solving some of the biggest problems facing society today, from organizers fighting for environmental justice and entrepreneurs running successful, sustainable small businesses to the record number of Indigenous folks running for office and winning.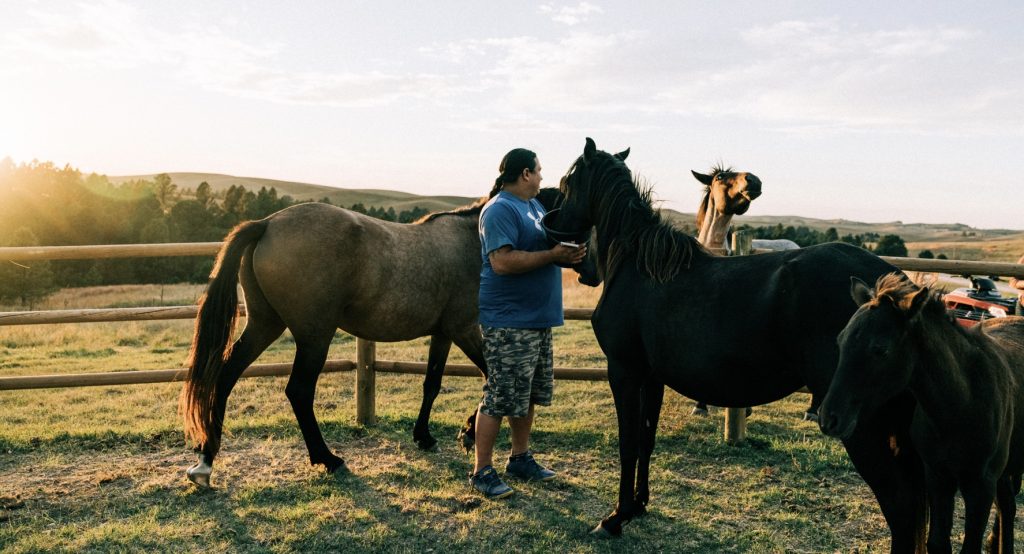 But our innovation not only needs to be uplifted by philanthropists, nonprofits, and foundations. They must also grant us the autonomy to pursue the building of a better world, informed by our practices, culture, and generations of wisdom.
In this In-Depth Series, in partnership between NDN and SSIR, you will hear from Indigenous leaders with solutions for investors who want to help further Indigenous priorities; from folks working on transformative narrative change and increasing Indigenous visibility; from organizers speaking on how Indigenous people are building our collective political power; and more. You'll be able to see the many ways Indigenous people are working to successfully solve issues that benefit our own communities and also, ultimately, all of us.
Now Is the Time for This Conversation
For decades, social entrepreneurs—predominantly white, heterosexual, cisgender men—have forced their own solutions onto our communities. More than just ineffective, this model is often actively harmful to the people in the greatest need. And because Indigenous folks are so often rendered invisible, or treated as if we no longer exist, stories about the work we do are too often presented as a singular Indigenous person doing one project, alone. Lost are the networks of Indigenous folks solving problems that haven't been solved before; forgotten are the resilient communities forging new pathways for survival.
It's time for that to change. Our organization, NDN Collective, has created a structure to move resources, money, and power away from white-led philanthropic organizations toward Indigenous and Black-led ones. We know, and have proven, that we can only solve our community's most pressing issues by actually giving them power and autonomy.
Indigenous people are at the frontlines of so many different struggles around the world, and we're up against drastic odds. Our life expectancy rates are 5.5 years lower than the general US population, we're more likely than any other racial group to have diabetes, a third of us live in poverty, our already-high unemployment rates spiked drastically at the onset of COVID-19 (more than for any other racial group), and we still largely lack accessto health care, leading many to die from otherwise completely preventable or manageable illnesses.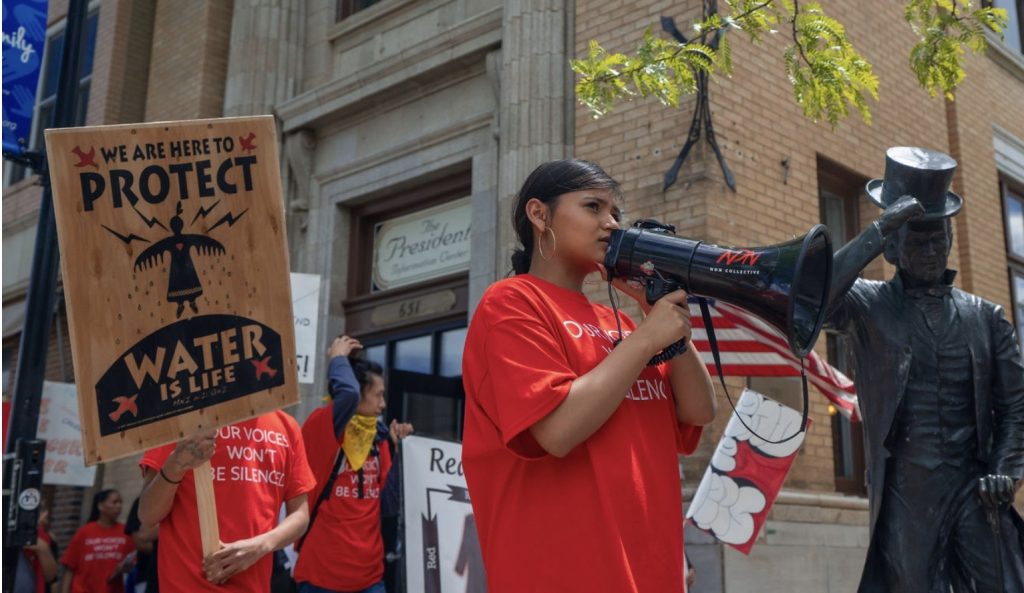 We're not separate from these statistics: behind those facts and figures are real people experiencing deeply entrenched inequalities every single day. But those closest to the pain and problem also need to be closest to solutions. The issues that plague us are rooted in white supremacy, and will never be solved by people who benefit from racialized systems, no matter how well-intentioned they may be. Time and time again, when given the opportunity and resources, it is and will be historically marginalized communities who rise to the occasion, and far beyond.
Community-Driven Solutions
NDN Collective's response to COVID-19 has been one example of community-driven solutions, raising and distributing $10 million to Indigenous communities in just nine months. Early on in the pandemic, we were doubtful there would be governmental action to help us, and we knew that even if there was, it would take longer to reach Indian Country than anywhere else. We were right: even the passage of the CARES Act has had minimal impact, with countless people still in economic crisis across the country. So Indigenous frontline healthcare workers, community organizers, business owners, and tribal governmental leaders came together to self-organize mutual aid networks
The first phase of our response was raising emergency money to directly provide necessities—food, water, shelter, PPE, and transport to and from medical appointments—in more than 100 Indigenous communities across Turtle Island. We're still working to offset some of the cost of educating kids at home, providing school supplies and technology for the many who can't quickly adapt to the sudden, new expectations provoked by preventing the spread of COVID-19, but who have received no assistance from local, state, or federal US governmental bodies. But the second phase focuses on long term solutions, like the development of Indigenous food and energy systems to make our communities more resilient for both future pandemics and climate crises. Instead of merely delivering water bottles to families, we're moving towards building sustainable systems to provide water, energy, and food to those families year-round (as with the NDN-supported project led by the Native Conservancy in Cordova, Alaska to develop sustainable kelp farming run by and for Indigenous people).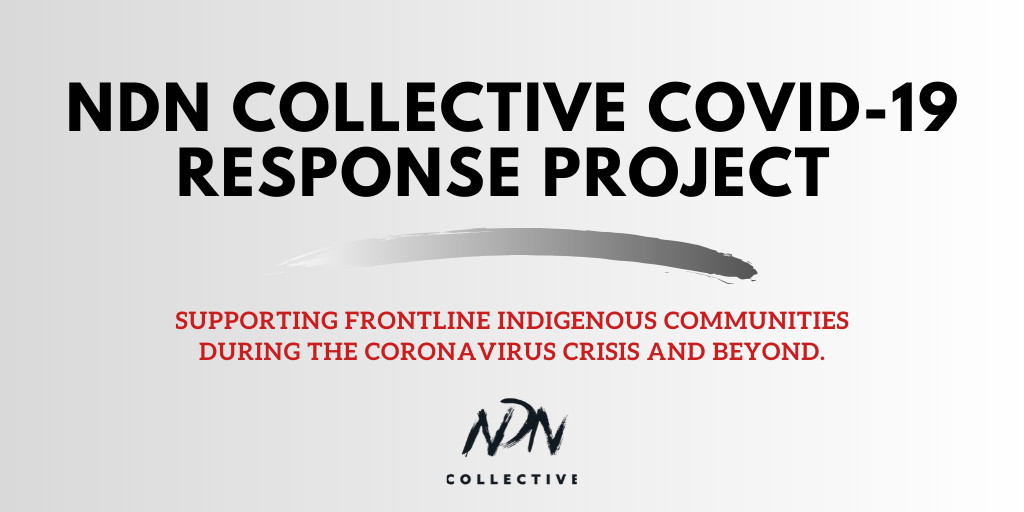 We were able to have a quick and effective response to COVID-19 because we had already built a network to solve our own social issues. In addition to being a grantmaking entity and one of the fastest-growing philanthropic organizations in the history of philanthropy, NDN Collective is a movement infrastructure organization: we aim to change what supporting Indigenous communities looks like, forever, by building sustainable systems that allow us to function outside of a white supremacist, capitalistic, scarcity-minded society.
We mean to build power.
Building Indigenous Power
The impact of our work extends beyond getting money to places it should rightfully be. Taking a stand for racial equity also includes direct action, which, for Indigenous people, includes defending our territory.
That's why in the middle of a global pandemic, I and 21 other organizers faced off with Trump and his COVID-19 denying-allies at Mt. Rushmore during the week of July 4th. As a national organization headquartered in the Black Hills, we felt the urgent need to respond as strategic frontline organizers when Trump planned to give a speech at the so-called "shrine of democracy" formed from stolen and desecrated Indian land, without the free and prior informed consent guaranteed to us in multiple treaties.
Trump's trip came just days before the victory in Oklahoma, where the Supreme Court of the United States declared much of the eastern state is rightfully Indian land. But as with Joe Biden's cancellation of the Keystone XL pipeline, victory like these could never happen without the decades of local leaders fighting for control of their own lands. Our choice to defend the Black Hills was therefore a strategic action to guarantee Indigenous peoples' issues are centered in the ongoing conversation about racial equity.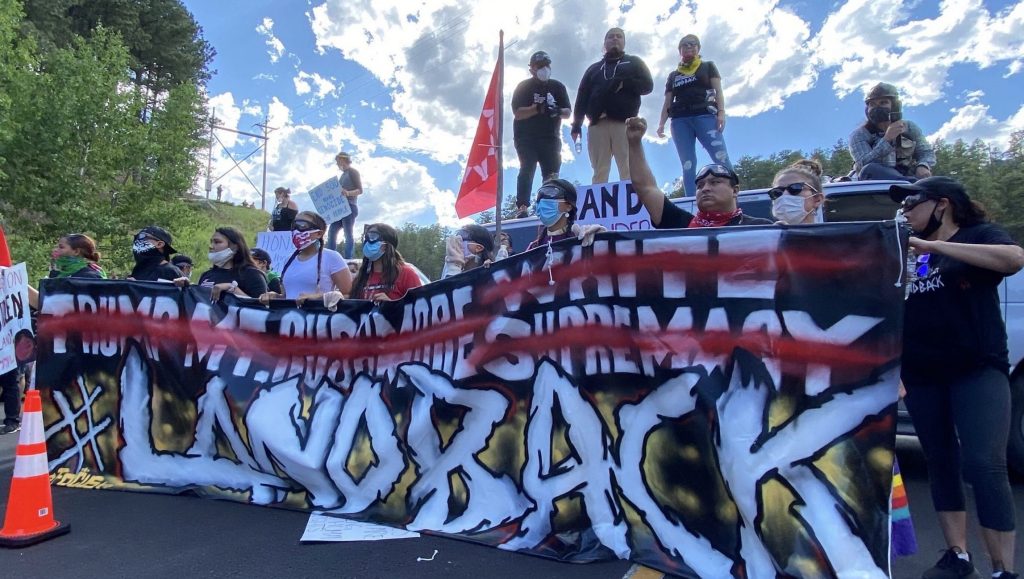 Not surprisingly, we're still being over-prosecuted for the actions we took at Mt. Rushmore, with dozens of people facing multiple charges under false premises. I'm facing a felony myself. And I hope no one ever forgets the extreme brutality used on land and water defenders at Standing Rock: the images of crowds being hosed down with cold water in the middle of a sub-zero winter, pepper spray aimed at women and children, and dogs trained to kill standing at the ready will never leave my memory. We must never forget that such extreme tactics were used by the US government, funded by taxpayers, to protect the construction of a pipeline that destroyed our sacred land and continues to threaten waterways for people around the world. If allowed to continue—currently transporting about 500,000 barrels of crude oil each day—the Dakota Access Pipeline will wreak irreversible havoc for generations to come.
Police violence and over-prosecution of Indigenous folks illustrate why we need to be funded directly, with no strings attached. Direct action is a critical tool for social change, but we have learned how much those fights can cost. We need to be prepared with protest supplies, bail, and legal aid to go up against the wealthiest and most powerful entities in the world: corporations.
NDN Collective successes not only stem from delivering services to help philanthropic organizations achieve their missions; we succeed because we're working from our own theory of change, and because we're giving the folks who have invested in us the chance to be part of our liberation. Our funders are not resourcing their ideas of what our work should look like; they're making our innovation and creativity possible, as well as paying reparations for the hundreds of years of genocide we've faced.
We are working tirelessly to ensure that the momentum behind the United States' racial reckoning will lead towards repair for the many communities of color who continue to be harmed by top-down, racist policies. But for repair to be real for Indigenous people, we need to decolonize the land. This means real and concrete consultation with our leaders about what is done to our land; it means free and prior informed consent when people want to enter our territory; it means defunding the military-industrial complex and violent policing structures who defend property over people and continue meeting us with deadly force; and it means dismantling the white supremacy that allowed our land to be stolen in the first place.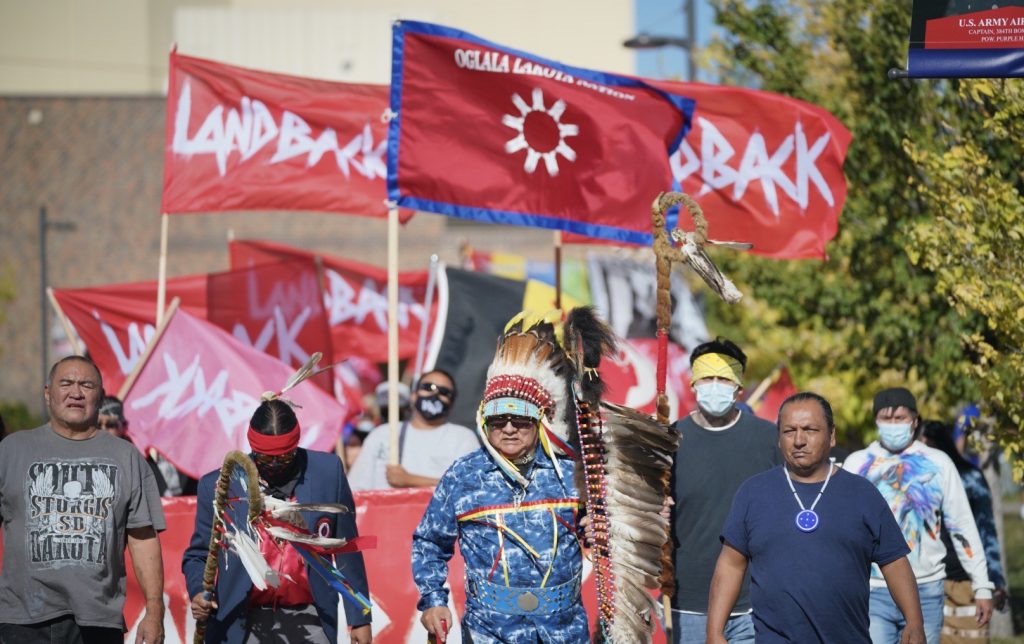 Countless Indigenous people are working to revitalize our ceremonies, languages, education systems, and lifeways. We're continuing ancient traditions and anchoring a world view of Indigenous identity, connecting nature back to people. We're working against the societal silos that the wealthiest have intentionally built to separate home and education and make the economy into a vast and vague entity that no one except Wall Street brokers and high-level policymakers can really understand. Indigenous people know all life-giving systems need to be integrated and treated as vital parts of the whole ecosystems that they fundamentally are.
As you read this series over the next few months, I invite you to call into question your own beliefs about the role of philanthropy and grantmaking. I invite you to interrogate your understanding of Indigenous people, and of our issues and fights. I ask you to open your heart to boundless possibilities that you haven't even begun to hear of yet, because of how segregated the United States still is by race and class. I hope you walk away from each new article with curiosity and the simple understanding that so many of us don't know yet what we don't understand. The people writing for this series are here to teach and learn from each other, working together to build a world in which we can all thrive. I hope you truly hear us, as we invite you into our respective worlds and share our unique perspectives, so we can move forward together, truly, for the first time.
read more about this special in-depth series with SSIR

here

.