Originally published at Stanford Social Innovation Review (SSIR) as part of a special in-depth series with NDN Collective.
---
In 2018, Morgan Stanley released The Trillion Dollar Blindspot, spotlighting how skewed investment practices are towards white male entrepreneurs, and how entrepreneurs of color lack the access to the social networks that white-owned businesses take for granted. This is particularly true for Native America, which represents billions of dollars in missed opportunities. In a survey of its investor members, US SIF: The Forum for Sustainable and Responsible Investment found that while 75 percent include "Indigenous Peoples issues" in their social investment practices, less than 20 percent had actually developed specific criteria for them. Saying that it's important to include Indigenous Peoples in decision-making practices is one thing, but if the majority lack capital screens founded on Indigenous principles and practices, how can it translate into action?
This disconnect between philosophy and practice is emblematic of broader power and relational asymmetries between Indigenous Peoples and the private investment world. Because Indigenous Peoples tend to lack relationships within the philanthropic and the investment community, Indigenous entrepreneurs often find themselves at a great disadvantage when they enter these spaces, which can lead to accepting deals on terms that do not fit their needs (or even worse, that are extractive).
---
Bridging the Gap
These gaps are not new, of course. But as the pandemic demonstrates, we need more investments focused on the most vulnerable pockets of the world and nation, and investing in local governments and institutions is the best way to secure their future sustainability and growth. Since federal government stimulus can never address the complexity and depth of a crisis like COVID-19—while the recently enacted CARES Act only demonstrates how tribes and Indigenous small businesses get left behind—the impact investing community must prioritize organizations and institutions closest to the impacted communities.
However, Indigenous intermediaries are crucial to overcoming asymmetries between impact investors and Native America. At the moment, NDN Collective's NDN Fund and Oweesta Corporation are the only national funds that fulfill this intermediary function. NDN Fund provides millions of dollars in flexible and patient capital directly to Native Nations, businesses, and organizations across Native America, while Oweesta lends to and resources other Native Community Development Financial Institutions (CDFIs) to meet the microenterprise needs within their local communities. Since these organizations can deploy tens of millions of dollars each year, foundations, impact investors, and even commercial banks can support large-scale and far-reaching impact through grantmaking and concessionary investments into these intermediaries.
Building Power
As a part of a movement to "Defend, Develop, and Decolonize" our planet—and achieve true equity through large-scale economic development—NDN's three principles align well with the integrated standards of just transition for the impact investment community. But for Indigenous communities and Native Nations to ensure just, equitable, and regenerative development for future generations, equitable development requires more than just capital flow: it requires a dramatic shift in power.
To facilitate this shift, NDN Collective established NDN Fund, Inc., a national emerging Native Community Development Financial Institution (CDFI) to increase the capital access and capacity that Indigenous changemakers, community developers, and Native Nations will need to defend, develop, and decolonize our people and planet. As part of the larger NDN Collective ecosystem, NDN Fund will move over $100 million through unique and flexible capital structures to projects in renewable energy, infrastructure, community development, housing, social enterprise, and regenerative agriculture. Currently, NDN Fund is actively capitalizing $15 million for three development projects and a COVID-19 Relief & Resilience Loan Fund. NDN Collective will also move roughly $2 million in COVID-19 grants funds directly to Indigenous businesses and to 25 Native CDFIs (the latter in partnership with Oweesta).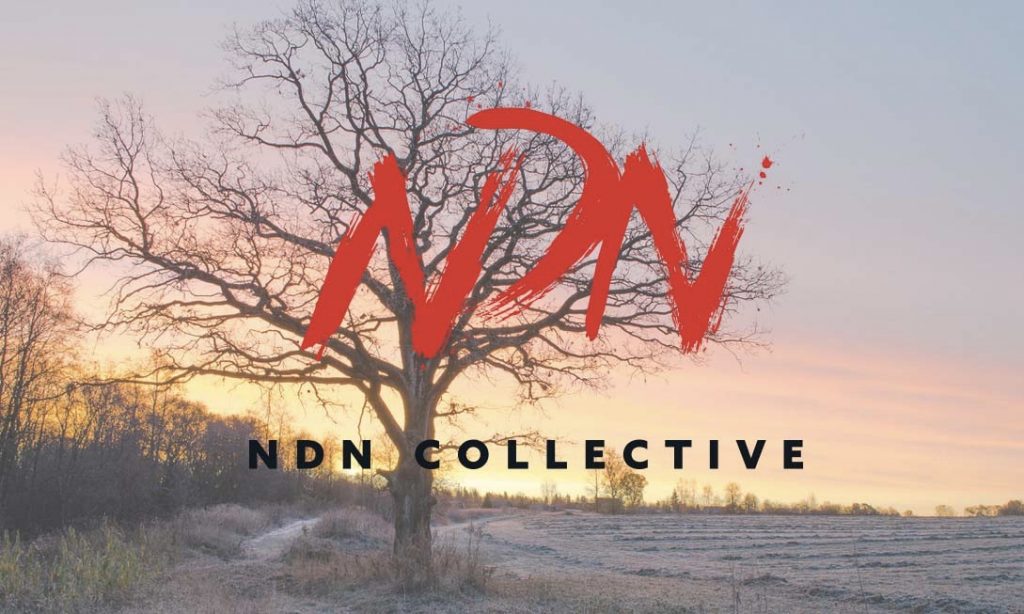 Oweesta supports the entire Native Community Development Financial Institution (CDFI) industry of nearly 70 US Treasury certified institutions, with a 20+ year history of building local Indigenous economies through financial education, entrepreneurship and homeownership capacity building, and lending initiatives. Oweesta also acts as a conduit for social investments to flow directly to Native CDFIs on a national scope and has a proven track record of delivering consistent returns to investors. Born out of the belief that—when armed with the appropriate resources—Indigenous people hold the capacity and integrity to ensure the sustainable economic, spiritual and cultural wellbeing of their communities, Oweesta honors the fact that our ancestors and Native Nations acted with wholly self-sustaining economies. For this reason, Oweesta has built the platform for the creation, development, and capitalization of the Native CDFI industry. Through its history, this organization has revolved $70 million in direct investments, assisting in the creation of private-sector economies, homeownership creation, and individual asset-building across Native America.
Oweesta's efforts have already changed the landscape of tribal communities across the nation. Yet in 2020 alone, Oweesta still has an unmet capital demand of $50 million to satisfy current market demand within our respective tribal communities, and a requested $5 million of immediate demand to capitalize tribal COVID-19 emergency relief funds.
This is a place to start.
The Current State of Impact Investing in Native America
Most of the investors surveyed by the US SIF were interested in renewable energy and advances in food systems, but Native CDFIs, Indigenous businesses, and national intermediaries like ours do more than just address those goals and tenets: we embed them into everything we do. Yet Native America is not seeing an influx of social and impact investment dollars. It is difficult to accurately estimate the level of impact investments directed to Indigenous institutions, but since less than 0.5 percent of all philanthropy goes directly to Native America—and an even smaller proportion of total commercial capital—we can assume that the proportion is even less in the relatively-unexplored impact investing space. According to Oweesta's data, our Native CDFIs estimate a $3 billion investment gap that would take their institutions over 40 years to meet in the current capital landscape.
In preparing the NDN Fund business plan, we interviewed several impact investors and tribal leaders, who noted the lack of a fluid ecosystem to access larger scale (and more financially-complex) projects holds back efforts to support Native Nations in development and enterprise. Many worthwhile and innovative tribal economic development projects are stalled in either pre-development stages or near completion, lacking both access to gap financing and expertise in putting diverse capital stacks together. Many Indigenous economic development professionals do not speak the investing language and are unaware of the many financing options available. Tribal attorneys working alongside external project developers and financiers on larger deals, i.e. New Markets Tax Credits, do not gain the expertise to draw up future deals after a project is complete.
There is a need for coordinated networks in Native America that bring together industry consultants, aligned investors, tribal leadership, and Indigenous businesses or organizations: mistrust and/or misalignment of many commercial lenders prevent many Indigenous development efforts from ever launching. For this reason, NDN Fund has developed an internal infrastructure of support to assist Native Nations. By acting as backbone organizations, NDN Collective and Oweesta enhance capital flow to tribal communities, part of our long-term strategy to position Native Nations and businesses to access capital on their own accord.
Investing in Indigenous efforts is a relatively new entry point for most social impact investors, but a small fraction of social investors have primarily focused on Indigenous support and investment, acting as avenues of entry to the social investing realm. In 2019, Oweesta piloted, with the Tamalpais Trust, a direct-investment vehicle where Oweesta acted as a conduit in facilitating $2 million in direct investment to Native CDFIs throughout the country. As an initial underwriter and loan servicer, we leveraged the strengths of our deep-seated relationships with Native America with the desire of social investment to assist in strengthening Indigenous economies.
Relationships with social investment agents should be more commonplace. It should not take decades to capitalize on a project or business or take hundreds of thousands of dollars to source the best partners, developers, and consultants for a project. Through impact investments, intermediaries like NDN Fund and Oweesta can mobilize resources outside of the financial and banking mainstream to assist in building self-sustaining local economies and empowering global movements relying on Indigenous wisdom in these uncertain times.
Investing in Our Communities Is No Longer Business as Usual
Even before COVID-19, investors were already shifting the definition of economic success to include how wealth, resources, and goods flow to everyone and how to steward our natural world and resources for the future. Indigenous wisdom on putting these socially responsible investment principles into practice is increasingly being acknowledged. However, the philanthropic and investment world still lags behind; over nine months into the pandemic, the conversations our organizations have had with investors, business owners, movement leaders, tribal leaders, healthcare workers, policymakers, and many others on how to sustain underserved communities through (and past) COVID-19 feels like trying to put out a blazing fire with a bucket of water. This pandemic has only exposed and widened the gaps in health, educational, and economic disparities that existed for decades, and the $8 billion CARES Act funds for tribestranslates to less than $140,000 per federally recognized tribe. We need a forward-thinking mindset to prevent these kinds of devastating impacts in the first place through resilient and robust local economic systems.
Through impact investments, intermediaries like NDN Fund and Oweesta can mobilize resources outside of the financial and banking mainstream to assist in building self-sustaining local economies and empowering global movements relying on Indigenous wisdom.

Tweet
NDN Collective has already leaned in, committing over $14 million in grants to Native Nations, non-profits, Native CDFIs, and individual changemakers addressing frontline, transition, and recovery needs across the US, Canada, Mexico, and Puerto Rico. NDN Fund has created a multifaceted response that will not only help bring our Indigenous economies through the other side but will also support long-term growth for innovative businesses and industries that are pivoting their product lines, supply chains, and delivery to meet the current demands. We launched our multimillion COVID-19 Relief & Resilience Loan Fund to support Indigenous entrepreneurs and tribal enterprises that still need low-interest and flexible capital, including for expansion in "advantaged" industries. We will also offer customized technical assistance for selected businesses. For example, we can help a medical gloves manufacturer secure procurement contracts with hospitals, and federal, state, local governments.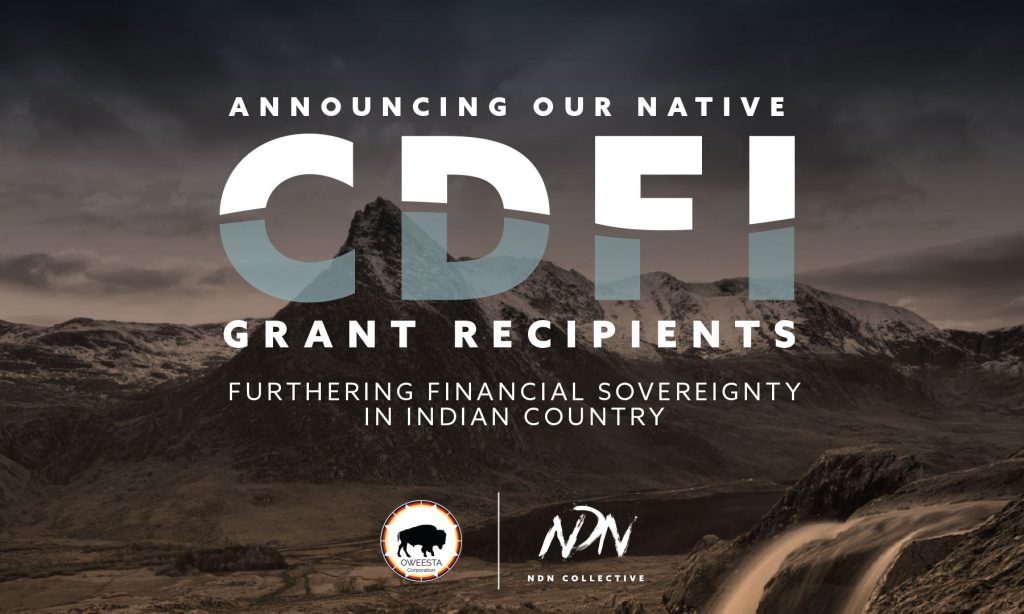 Oweesta has pivoted quickly to address COVID-19 by creating two new loan products—a working capital loan and a line of credit—to directly support local Native CDFIs immediate capital demand. These Native CDFIs can be the sustaining lifeblood for the financial wellbeing of their communities, especially in times of crisis. Social investors—in solidarity—have capitalized on this loan fund, and the partners guaranteeing these loans have allowed Oweesta to create a steady stream of emergency funding to communities that need capital for families and small businesses. Oweesta has also been working with the many social investors in our portfolio who are providing deferrals and flexible capital to allow us the flexibility to do the same to borrowers.
Oweesta and NDN Collective continue to stand in solidarity with Indigenous communities who remain uniquely affected by COVID-19. In December 2020, we announced the 25 Native CDFI awardees of $50,000 discretionary grants, each selected based on their response to their communities during this time of crisis, as well as those actively participating in areas aligned with transition and resiliency work, to help us develop future grant and capacity-building opportunities with the field.
Bridging the Gap Between Investors and Development
As national intermediaries, our organizations play an important role in creating an ecosystem and market for impact investing in Indigenous communities, performing the due diligence that investors need to manage risk, reduce transaction costs, and save time. Since social finance is still emerging in Native America, we work to lay the groundwork for other Indigenous institutions to receive impact investments. Since development in Native America is relationship-based, our vast networks and expertise allow access to investors that non-Native lenders and community organizations could never provide. We help tribes and nations build and maintain trust with non-Native entities; we provide customized capacity building services that extend financial, planning, technical, and managerial expertise to attract and manage external investment; and we identify and encourage governance practices that reduce uncertainty for investors.
NDN Fund uses an integrated capital approach, a unique advantage over other Indigenous financial institutions. Unlike many Native CDFIs, we intend to source blended capital solutions through existing investment instruments like New Markets Tax Credits, Low-Income Housing Tax Credits, federal and state solar tax credits, historic preservation, and equity investments (through NDN Collective's for-profit arm). We also are developing a number of different access points and resources for the communities and other Native CDFIs we work with, such as fellowship grants and funds for pre-development and technical assistance to align the right capital stack and consultants for each project. Our partnerships can include loan participations with smaller Native CDFIs to leverage their on-the-ground expertise.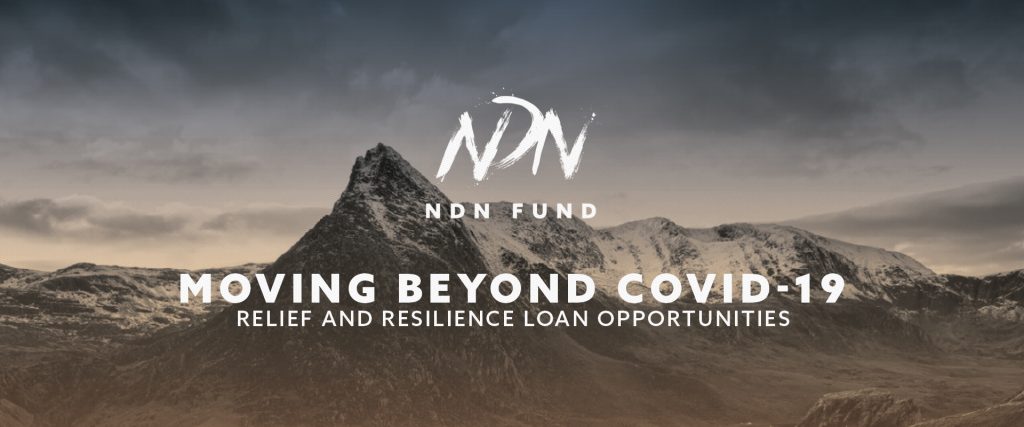 Oweesta leverages investor dollars through their Native CDFIs 20:1. In last year's "Equity for Native American Communities, Using Mission Investments Alongside Grants,"Northwest Area Foundation CEO Kevin Walker shared how they use their endowment, not their grantmaking funds, to invest in Native CDFIs: not only have they received a modest return, but they have also seeded important industries, jobs, and potential for future development across the reservation economies they work in. In 2018, Northwest Area Foundation extended a $500,000 Program-Related Investment (PRI), a low-interest loan, to Oweesta's $10 million lending pool. (In 2020, they also provided a $200,000 Loan Loss Reserve grant for NDN Fund's COVID-19 lending portfolio.)
In 2018, Oweesta's historic $10 million Capital Pool for Native CDFIs grew out of a pressing long-term need in Native America: access to capital. We prioritized relationship-building opportunities, such as site visits, between investors and pool members. These relationships offer the opportunity for investors who normally would have very little engagement or understanding in Native America to discover the unique cultural context in which our Native CDFIs operate.
Our $10 million capital pool was deployed in the form of long-term, low-cost capital and will have multigenerational impacts in creating jobs and small businesses, assist families in purchasing their first home and help tribal members enhance their credit through consumer lending products. To date, the pool has leveraged an additional $7.5 million in investment. For Indigenous entrepreneurs, it has created 52 small businesses and 189 jobs. In the last two years, it has also financed 108 homes in Indigenous communities, creating 28 new homeowners. Through creating a safe-investment structure and prioritizing relationship-building, we believe this pilot will create a transformative shift in what is possible for investing in Indigenous communities. It breaks the systematic marginalization from the financial mainstream through a bottom-up approach, on the terms of our local community-based organizations.
The Advantages of Native America
There is a wealth of opportunity in investing directly with Native America. As Little Fawn Boland, one of our partners and experts in structuring large financial deals, put it: "We have fewer governmental hurdles to deal with so we can fast-track investments in a way that can't be done outside of Indian Country." Among the many advantages sovereign nations, tribal enterprises, and enterprises located on Indigenous lands offer for investors are: exemptions from federal and state tax, special consideration for government and diversity contract awards, preferential access to some federal grant and loan programs, special tax credits, incentivized leasing, and specialized investment or trade zones. Intermediaries like NDN Fund and Oweesta can help ease new impact investors into these opportunities.
---
Other Articles in this series
Read More About This Series here