When I was in fifth grade, on a winding rez road in Diné Bíkeyáh, my mom started our first conversation about my journey into asdzaanhood. I had spent the day playing in the wash with my brothers and cousins. On our dark drive home, my mom shared a conversation she had with my grandmothers who speculated I would soon be starting my period. I asked curiously how they know and my mom shared, "They just know."
Over the next year, my mom would work to ensure that my learning about this transition was understood and celebrated. I learned alongside my whole family. The oldest of four siblings, my brothers and baby sister would support relatives who were celebrating their daughter and sister's similar journey with the Diné Kinaaldá ceremony. Our car rides home were our opportunity to ask questions, giggle about what we saw and even share our pride in the hard work we helped with while at the Kinaaldá.
Growing up on the Rez, I had many favorite things – roller skating on the basketball courts at the nearby school, slumber parties in my parents camper in the driveway of our home. While there was a stint of being a Girl Scout, the first "real" club I wanted desperately to be a part of growing up was of the Kinaaldá kind. I was fortunate to have a mom who nurtured in me a deep appreciation of my body's ability to have a moon cycle each month. She helped me to see how special it was to honor the transition into asdzaanhood with this ceremony.
I eagerly awaited the arrival of this gift. I would hear of school mates having their ceremonies and longingly wished for my moon to come. The spring of my sixth grade year, my family held my ceremony which occurred over four days. During my ceremony, I had many family members, friends and community members who came to support. They brought food, water, with them as offerings. "K'é is a principle of Diné kinship that imparts the teaching that as "five-fingered people" we are responsible to each other. It is not simply that we are relationally connected through clans but really connected through a civic responsibility to each other.
As I have grown in asdzaanhood, my journey has meant continuously learning about this ceremony and its importance to Diné culture. The first being to hold this ceremony was Changing Woman, one of the Diyin Diné'é (Holy People). Changing Woman held four ceremonies in the time when the five-fingered people could communicate with the animal beings. She held these ceremonies for her first four moon cycles. At it's completion she gave two of her ceremonies to Diné people to carry on.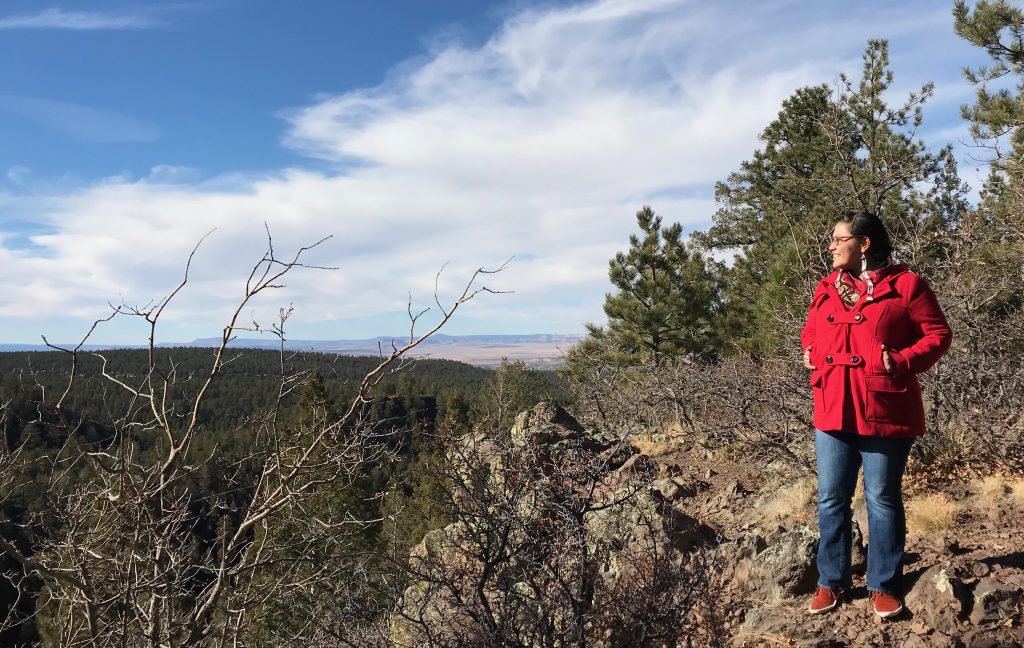 The upholding of this ceremony is one which is challenging to maintain in these modern times. Because of the Diné diaspora and access to our lands, medicines and even funds to carry out these ceremonies, maintaining this tradition can be challenging. But what I find most promising is the ways we have continued our allegiance to this ceremony regardless.
I believe so much of the reason why is because it is a ceremony that brings together community. There is renewed faith in the future of our people at each Kinaaldá. As we see the young woman taking part of this ceremony, we feel resonate power of her walking with Changing Woman. Kinaaldá is not the only Indigenous puberty rite of passage for women. There are many communities which recognize this particular transformation and others in a woman's body. Each ceremony held is a poetic reclamation of the medicines of our people. They are the ways we stand in the power of our lineage facing the non-Indigenous world and its threats.
Today is International Women's Day, and I am driven by the surge of rematriation of Indigenous femmes, womxn, asdzaan moving all around Turtle Island and beyond reclaiming our ancestor's wisdom. Each of us asserting the stories of our deities like Changing Women to help and call on the action of our relations to support these practices.
In my lifetime, I have personally seen a reconnection to birth knowledge by Indigenous doulas and midwifes. I have eaten plant-based food prepared by matriarchs working to create healthier food relationships for our community members. Each of these womxn are ones who are working in community to dream of new worlds for our children.
Days like today are powerful. We see a vibrant fluorescence of action among womxn. I am also remined of the many reasons why it is critical for us to think about the ways we integrate our traditional knowledge around gender fluidity. This is a part of my own community's traditional wisdom that is often left out of our conversations around asdzaanhood. It is a practice I have made a personal commitment to uplifting more in future work, too.
International Women's Day is a reminder to think about the intersections of our corn pollen paths and how we can honor the lineage of matriarchy that has blessed us with practices and relationships to one another in order to ensure we continue to work in this world like our ancestors did – together in K'é.
Read more here about the Kinaaldá as shared by the author.