NDN COLLECTIVE IS HONORED TO ANNOUNCE THE SECOND COHORT OF
NDN CHANGEMAKER FELLOWS
These 21 NDN Changemakers are Indigenous leaders from throughout Turtle Island and beyond who are radically transforming Indigenous communities by defending Indigenous lands and rights, developing sustainable solutions for the future, and decolonizing their day-to-day lives, their families, communities and Nations. They are organizers, activists, social entrepreneurs and cultural practitioners who are challenging the status quo and building a better future for all people and Mother Earth.
"It's a true blessing to support such a committed group of Changemakers. They epitomize the fortitude and persistence of our people– those who are dedicated to building their communities, changing their communities, and loving their communities. We all thrive because of people like them. They are the leaders, the organizers, the teachers and healers we need for the future generations," said Gaby Strong, Managing Director of the NDN Foundation.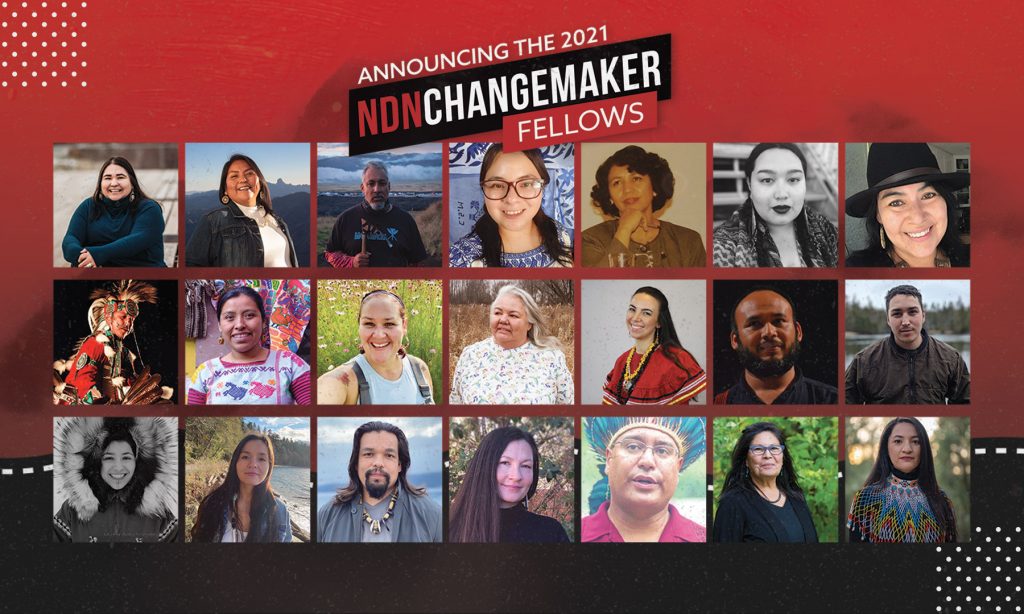 "We know that within our people lies the power and potential to transform our communities, build beautiful and regenerative Nations, and to educate and heal one another," said Dr. PennElys Droz, Program Officer. "The NDN Changemakers are true embodiments of the determination, strength, and personal commitment it takes to do this difficult work."
"By supporting Indigenous changemakers, we are supporting their projects, families, and communities," said Nicole Yanes, Program Officer of the NDN Foundation. "Our people have the solutions to address the challenges that our communities face."
The NDN Changemakers featured here were advanced in recognition of their service, powerful leadership, and remarkable potential, and we are deeply honored to now be a part of their stories. Each fellow was uplifted and selected by grassroots members of their region in a process which involved more than 400 applicants from 21 different regions across Turtle Island and surrounding Island nations. All of the changemakers who have participated in the fellowship application process have given us so much hope and inspiration for the future.
Now, we're introducing the 2021 NDN Changemakers to you

:
Marjorie Kunaq-Tahbone, Iñupiaq and Kiowa
Nicole Sue Francis, Mi'kmaq
Tsanavi Spoonhunter, Northern Paiute and Northern Arapaho
Dr. Priscilla Settee, Swampy Cree First Nation
Mariana Harvey, Yakama Nation
Konwanahktotha Alvera Sargent, Mohawk Nation
n̓aasʔałuk (John Rampanen), ʕaḥuusʔatḥ (Ahousaht) and qiłcmaʔatḥ (Keltsmaht)
Sakej Doucette, Mi'kmaw
Halay Turning Heart, Yuchi
Elena Terry, Hocak

Dustin J. Whitford, Chippewa-Cree
Olepika, Inuit
Andre Perez, Kanaka Maoli
Amy R. Juan, Tohono O'odham
Amie Charlie, Gwitch'in and Kaska First Nations
Roberto Múkaro Borrero, Guainía Taíno
Heber Uc,Mayan Peninsular
Edith Ñuu, Savi
Citlaly Simón Morales, Ñähñü
Isabel Cristina Murrieta López, Opata
Donna Ashamock, Eeyou/Inninew (Cree)
CONGRATULATIONS TO THE 2021 CLASS OF NDN CHANGEMAKER FELLOWS
Movements for social and environmental justice are made up of ordinary people doing extraordinary things and amidst some of the most challenging circumstances. The NDN Collective is honored to join and support this group of NDN Changemakers on their journey. With the NDN Changemakers Fellowship, we are investing into Indigenous self-determination and supporting Indigenous-led solutions on a local level.
Stay tuned for more content from NDN Collective where we introduce the fellows in greater detail and share more about the work they'll be doing in the coming year.
About NDN Collective
NDN Collective is an Indigenous-led organization dedicated to building Indigenous power. Through organizing, activism, philanthropy, grantmaking, capacity-building, and narrative change, we are creating sustainable solutions on Indigenous terms.